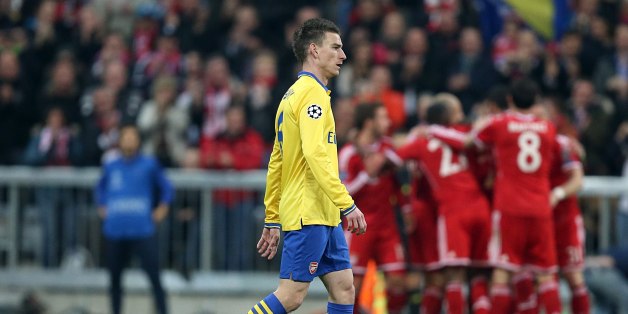 PA
Arsenal could only manage a 1-1 draw against Bayern Munich as they exited the Champions League last 16 for the fifth successive season.
Bastian Schweinsteiger put the holders ahead in the 54th minute only for Lukas Podolski to level three minutes later. Łukasz Fabiański saved a stoppage-time Thomas Müller penalty as the Gunners avoided defeat at the Allianz Arena again, but it was immaterial.
Here are five talking points...
WENGER IN DANGER OF BECOMING IN THRALL OF ÖZIL
Arsène Wenger let his guard down three weeks ago when he admitted he was "concerned" about Mesut Özil's confidence and opined the German's missed penalty against Bayern affected him mentally. Wenger decided against withdrawing Özil after Arsenal went down to 10 men following Wojciech Szczęsny's red card and found the pressure not to start him on Tuesday night too great, as well.
Özil was nursing a hamstring injury and it showed, since Arsenal were so defensive with him on the pitch it seemed like they were a man short. Özil started on the right, purportedly to target David Alaba, yet the Austrian was utterly dominant in that particular one-on-one.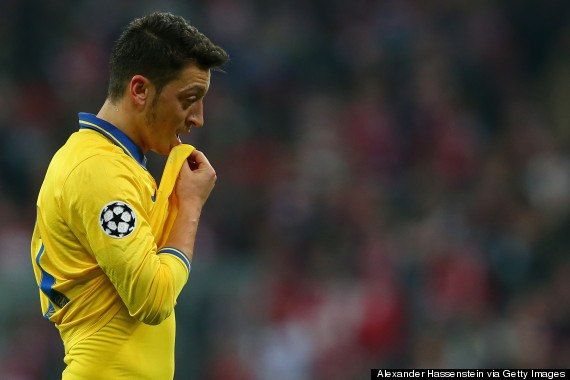 Özil will want to forget the tie against Bayern
The praise of Özil following the weekend win over Everton was overstated and borderline condescending. It is understandable Wenger will indulge a player he spent £42.5 million on, yet the urgency Tomáš Rosický showed was invaluable. The best players don't necessarily make for the best team, and Özil perhaps needs to spend a little longer on the bench when he is fit again.
WENGER'S GAMEPLAN BAFFLES
"We can be patient," Arsène Wenger stressed on Tuesday. "We know we are in a similar situation to last season." Arsenal displayed similar patience after Olivier Giroud's third-minute opener last year, but that was the crucial difference between now and then. At times in the first-half Arsenal resembled the team two goals ahead in the tie, as Bayern had as much trouble staying onside as Filippo Inzaghi and squandered several promising openings. They treasure the ball like a comfort blanket under Pep Guardiola and were never likely to relinquish control like they did, briefly, when Arsenal last visited Bavaria. It took Bastian Schweinsteiger's opener to remind Arsenal a goalless draw wasn't enough.
ARTETA STILL NOT JUSTIFYING ARSENAL ROLE
For someone supposedly silky, Mikel Arteta has a peculiar way of showing it. He was always a niggly and cynical fouler at Everton but, up until his last two years at Goodison Park, he still effected the team's attack. At Arsenal, he is a deluxe and undroppable hatchet man whose inclusion appears to be due to his ability to successfully convert penalties.
He perfectly embodied Arsenal's curious casualness in the first 45 when Mathieu Flamini's aggression would have been preferable for a team chasing the tie. Wenger has downgraded Arteta into a holding midfielder but he was about as much trouble for Bayern to wander past as a training cone. No one tracked Schweinsteiger before he made it 1-0.
OXLADE-CHAMBERLAIN RE-EMPHASISES ENGLAND WORTH
Three months ago, Alex Oxlade-Chamberlain's place in Roy Hodgson's World Cup squad was up for debate, when now the debate is whether he should be in the starting XI against Italy. If a friendly against Denmark is an unreliable barometer of a player's worth, then frightening the best midfield on the continent is the opposite. Bayern were reduced to deliberate fouls in their efforts to halt the young midfielder's bursts and he kept the ball intelligently. At the age of just 20, Oxlade-Chamberlain has made the transition from winger to attacking midfielder look remarkably effortless. He is a rare English player whose on-pitch intelligence belies his years.
BAYERN OFFER OTHERS HOPE
One of the impressive aspects about Bayern in their post-Jupp Heynckes era was how quick they were to strengthen a treble-winning side. The Mario Götze deal was agreed a month before the season ended last year and a Barcelona midfielder followed him to Munich. Robert Lewandowski will arrive in the summer. The error they made, like Manchester City, was to not bolster their soft centre in defence, where even without the jittery Jerome Boateng they were panicky against Arsenal.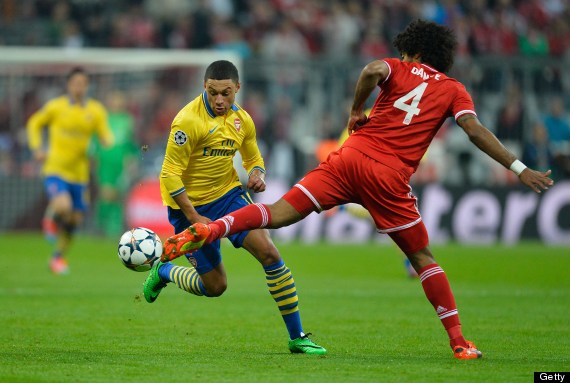 Dante: Not the peak of central defenders
Dante is a superior footballer than Boateng but barely better defensively. Javier Martínez, a superb defensive midfielder, might be Bayern's best central defender yet he is too immobile to flourish further back. Guardiola's Barcelona succeeded with a suspect defence that included the woeful Eric Abidal and was dependent on Carles Puyol's leadership skills; perhaps he likes the challenge. It will be fascinating to see how they fare against Carlo Ancelotti's relentless Real Madrid later in the competition.