UPDATE 'We're Not Getting Rid Of Him': Family Stand By Cat That Held Them Hostage After Attacking Their Baby
A family and their pet dog were forced to take shelter in a bedroom after their 22lb cat began charging and trying to attack them.
Police were called after Lux the cat took violent exception to being "spanked" after he clawed at the face of the family's eight-month-old baby.
A recording of the 911 call has been made available on KPTV, where the caller can be heard imploring: "He's charging at us. He's at our door, bedroom door.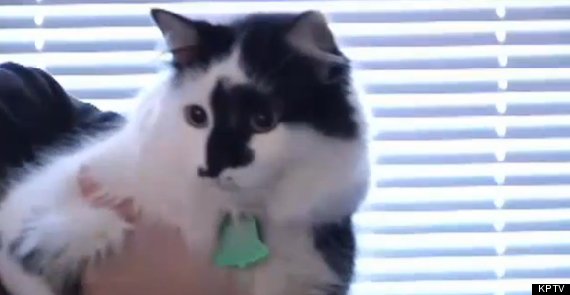 Lux has behaved 'normally' since the incident but the family say they have a tough decision as to whether to keep him
Further transcripts published on Fox43 quote him as saying: "He's trying to attack us. He's very, very, very, very hostile.
"He's got kind of a history of violence. He's kind of a violent cat already. But he's got really bad now."
At one point what sounds like a furious cat yowl can be heard.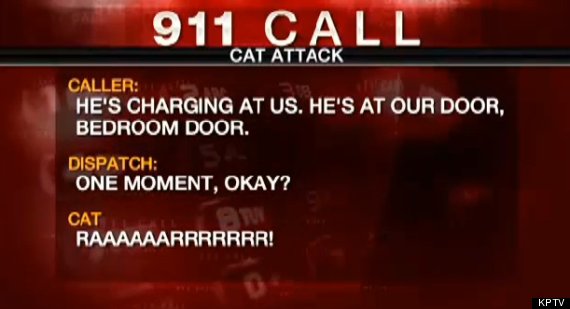 The voice of fear: The family made a panicked 911 call
The family of Portland, Oregon say they called animal control first but were forced to contact the police after no one picked up.
The baby received scratches to its face but no other injuries.
Sgt Pete Simpson, a Portland Police Bureau spokesman told the Associated Press officers used a dog snare to capture the cat and place it in a crate.
SEE ALSO:
Owner Teresa Barker said told KPTV: "It's only funny when it's not happening to you.
"When this happens to you, I assure you, you will do the same thing."
But though Lux has since been reunited with his family and has been behaving normally since, they admit they will have a tough time deciding whether they can keep him for the sake of their baby's safety.