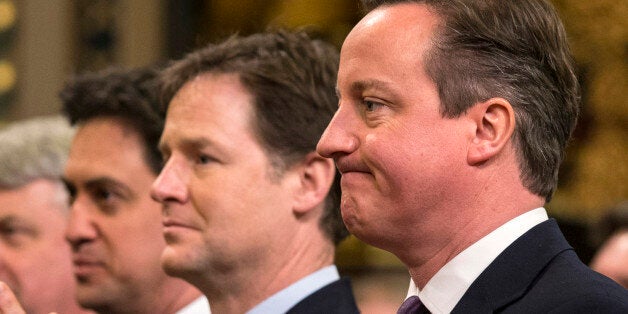 A childcare tax break for working parents will be more generous than expected and expanded to older children more quickly, the Government announced ahead of the Budget.
The new scheme - due to come into force from the autumn of 2015 - will be worth up to £2,000 per child, compared with the £1,200 originally proposed.
And it will apply to all children under 12 within its first year of operation rather than the seven-year programme envisaged when it was first announced by Chancellor George Osborne a year ago.
Around 1.9 million families could benefit, twice as many as under the present voucher scheme which is only available where adopted by an employer.
But the policy has faced criticism for excluding couples where one parent does not work and being available to high-earning households with a joint income of up to £300,000.
In a bid to counter criticism of a boost to better-off families, there will be a £50 million boost for nurseries looking after the most deprived three and four-year-olds.
And in what children's charity Barnardo's hailed as a "double victory" for the poorest families, it was confirmed that families claiming Universal Credit will have 85% of childcare costs met, up from 70%.
Details of how that would be funded "from within the Universal Credit programme" would be set out at the time of the Chancellor's Autumn Statement, Number 10 said.
With one charity estimating that the average family will be spending two fifths of their income on childcare within a decade, childcare has become a political battleground.
Labour said support for children and families had been cut by £15 billion since 2010 and dismissed the promise of a tax break after the next general election as "too little too late".
But Prime Minister David Cameron said it would "help millions of hard-pressed families with their childcare costs and provide financial security for the future".
Mr Cameron is due to make a joint appearance to highlight the package alongside Deputy Prime Minister Nick Clegg - who was expected to focus on the help for poorer families.
"As, together, we build a stronger economy for Britain, I'm committed to making sure that we create a fairer society too," the Liberal Democrat leader said.
"We want to ensure that everyone can get on and succeed."
The system will effectively allow parents to escape paying basic rate income tax of 20% on childcare costs of up to £10,000 - up from the proposed £6,000.
The self-employed and part-time workers would also now be covered by setting the lower earnings threshold at £50 per week and provision would also be made for those running fledging businesses.
The existing voucher scheme will continue for those already using it but be closed to new entrants.
Shadow minister for children Lucy Powell said: "David Cameron has cut support for children and families by £15 billion since he came to office.
"And today he confirms that no help will arrive until after the election. This is too little too late.
"Of course any childcare support is welcome but this Government has done nothing in this Parliament to help parents experiencing a cost-of-living crisis.
"Childcare costs have spiralled by 30% since 2010 and the Tories have rejected Labour's plan for 25 hours' free childcare for working parents of three and four year olds."