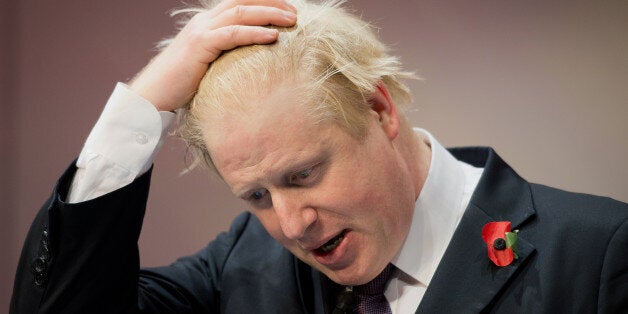 The Conservative Party is being destabilised by "self-indulgent" speculation over Boris Johnson taking over from David Cameron as leader, a backbench MP has warned.
Thurrock MP Jackie Doyle-Price said that the "obsession" with the London mayor risks undermining the Conservatives' appeal to aspirational voters outside the capital, where his irreverent and scruffy image does not have the same appeal it exerts on the "metropolitan elite".
Ms Doyle-Price - whose Essex constituency, snatched from Labour by a wafer-thin 92 votes in 2010, is the kind of seat Tories must win to have any chance of securing a majority in next year's election - warned that the party risks appearing "out of touch" unless it shows it is focused on the concerns of ordinary people over jobs and the cost of living.
Labour said that her comments showed that even Mr Cameron's own MPs were worried that the party was being run by an "old boys' network" which was out of touch with ordinary people.
Ms Doyle-Price's intervention comes after the Mayor's father Stanley Johnson fuelled speculation about a leadership bid by calling for a change in the party's rules to allow contenders from outside Parliament to throw their hats into the ring.
In an article on the ConservativeHome website, the Thurrock MP said: "The leadership of the Party is not a bauble to be passed around the old boys network. The Party will decide who the next leader is. Not Stanley Johnson and not the media commentariat who are obsessed about whether Boris is about to return to the House of Commons or not."
Ms Doyle-Price warned: "The biggest impediment that this party has when trying to secure a majority at the next election is that on one key question we constantly perform badly. That is on the issue of whether the party is in touch with ordinary people. It is the reason we did not get beyond 36% of the poll in 2010.
"But while people are worrying about whether they are keeping their jobs, whether they will be able to afford the electricity bill and how much it costs to fill the car these days, our commentariat is talking about Boris. We need to stop talking about ourselves and talk about the things that really matter to people. Otherwise we will be seen as out of touch, and Labour's message will resonate."
Ms Doyle-Price called on the Tories to "get serious" and focus on winning back the aspirational voters in the Midlands and North of England who voted for Margaret Thatcher and John Major and do not share the metropolitan elite's "contempt for authority".
"There is no doubt that Boris has an appeal. It is an appeal to the metropolitan elite that likes to write about him. It is an appeal that doesn't really travel beyond the M25," she wrote.
"Outside the M25 we don't expect our leaders to be tieless or irreverent, look scruffy or travel cattle class.
"We want to respect our leaders. For those of us who are aspirational, we want to be able to travel club, wear good clothes and have a nice car. These are the people we need to win over to win that elusive majority. We risk undermining our appeal to those people if we constantly run after the agenda the media sets us instead of setting our own."
Labour shadow Cabinet Office minister Jon Ashworth said: "Even David Cameron's own MPs are now admitting his Government is out-of-touch and run by an old boys' network.
"Once again we are seeing the Tories fighting like ferrets in a sack rather than taking action to tackle the cost-of-living crisis facing hardworking people.
"The Tories are obsessed about the leadership of their party post 2015 because they know the current leadership has let down the country. Families are £1,600 a year worse off and yet the Tories are too busy attacking each other to provide any solutions."
Related