Diane Abbott has launched a cutting attack on Ukip, accusing the party of "sinking to the gutter" by appealing to anti-immigrant fears to gain votes.
Speaking at an anti-racism rally in central London, the Labour MP denied that the rising popularity of Nigel Farage's right wing movement was a symptom of disillusionment with the three main parties in Westminster.
"The objective is to say to politicians in all parties that we're tired of this anti-immigrant political narrative," said Abbott, while criticising George Osborne's recent budget as a similar sop to older, right-wing voters. "There was a lot in it for Tory voters, especially older Tory voters," the MP added.
More from the Press Association:
Abbott, the Labour MP for Hackney North and Stoke Newington, estimated that more than 7,000 people took part in the march to deliver letters from minority groups to the Prime Minister, before joining a rally in Trafalgar Square. The letters called on the Prime Minister to do more to protect vulnerable communities from discrimination.
Speakers at the noisy rally, timed to coincide with the UN's anti-racism day, also warned that growing support for Ukip could result in increased levels of racism. Representatives of the Romanian, Muslim and Roma communities spoke about their fears of a rising tide of xenophobia and blamed the media for distorting the immigration debate.
Barnaby John, an IT student from Essex who attended the protest, said: "I'm here to hear the voice of the protest, to see what's going on. I can see Ukip getting big gains and it even being Ukip versus Labour in the general election. I can't see Ukip winning but I could possibly see a Tory Ukip coalition. The turnout here is crazy - it's huge."
Other speakers included Labour MP Jeremy Corbyn, Green Party leader Natalie Bennett and secretary general of the National Union of Teachers, Christine Blower. A group of six men were subject to shouts of 'Fascist scum' by anti-racism protesters and were spoken to by stewards. Otherwise, the Metropolitan Police confirmed that the event passed off without incident and there were no arrests.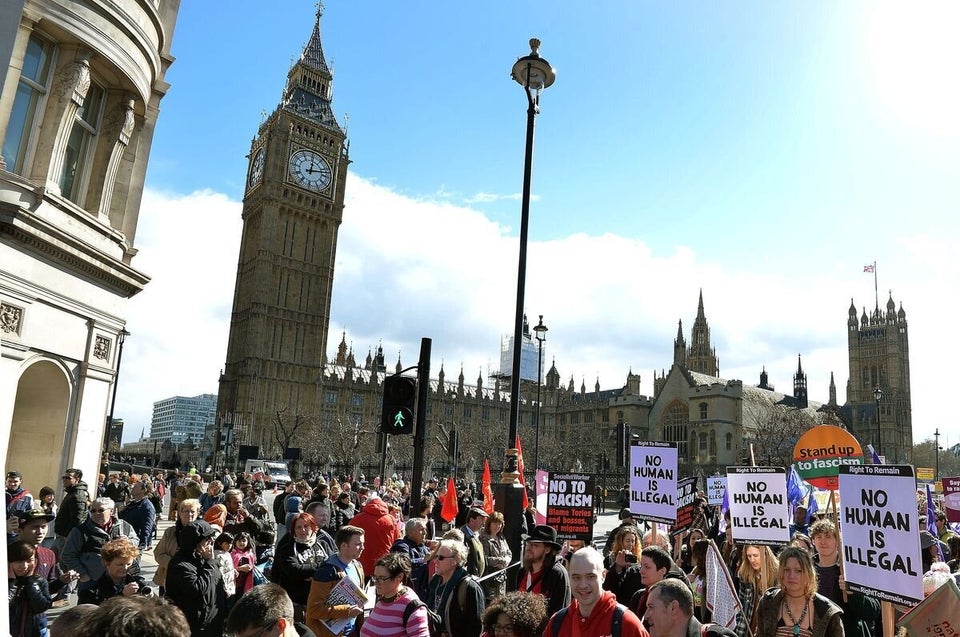 Anti-Racism Rally
Popular in the Community