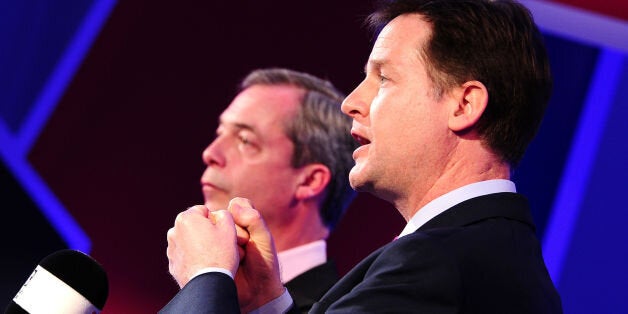 Nick Clegg has criticised Nigel Farage for his "utterly grotesque" praise of Vladimir Putin, saying the comments show how "extreme his views have become".
"I just think it is utterly grotesque that Nigel Farage apparently admires - and that was the question to him, 'Who do you admire?' - admires someone, Vladimir Putin, who has been the chief sponsor and protector of one of the most brutal dictators on the face of the planet, President Assad," the Lib Dem leader said.
"I just think if your hatred of all things to do with the European Union leads to such a morally perverse conclusion - that you admire the one leader in the world who could have reined in President Assad - it really shows quite how extreme his views have become."
Speaking at a Chatham House event this afternoon Farage stressed that he had made the remarks months ago.
"I said it just after Parliament had voted not to go to war in Syria, thank God," he said. I think one or two of the things that Putin said did actually change the debate in this country. I said I don't like him, I wouldn't trust him, wouldn't want to live in his country.
"But compared with the kids who run foreign policy in this country I have got more respect for him than our lot."
Clegg said Farage was admiring a man who had done nothing to help the plight of Syrians. "[Putin] has blocked at every single turn in the United Nations any attempt by the international community to work in concert to help the many, many millions of people who have been driven from their homes and have been brutalised, and have been tortured and have been killed.
"And to then express his admiration by saying that he thinks that Vladimir Putin has played it all as if it's a game. This isn't a game. This is thousands upon thousands of people being killed and brutalised and murdered and chased from their homes who we are now taking into our country.
"Women and children who have been sexually abused, who have been physically abused, and we are thankfully acting in a generous-hearted way to provide them refuge.
"And he admires the man who has allowed, more than almost any other world leaders, that to happen?
Farage, who was asked by Alistair Campbell on which current world leader he most admired, replied: "As an operator, but not as a human being, I would say Putin. The way he played the whole Syria thing. Brilliant. Not that I approve of him politically. How many journalists in jail now?"
His comments emerged just days after he said the European Union had "blood on its hands" for encouraging rebellion in Ukraine, Syria and Libya. While stressing that he did not approve of Putin's annexation of Crimea, he said EU leaders had been "weak and vain".
Putin has been blamed by the West for prolonging the Syrian conflict by supplying arms to dictator Bashar Assad and blocking moves to censure or sanction him at the United Nations, but was widely seen to have outwitted the US last year when he brokered a deal under which Damascus agreed to give up its chemical weapons.
Farage and Clegg are due to go head-to-head on Wednesday evening in the second of their live TV debates on the EU.