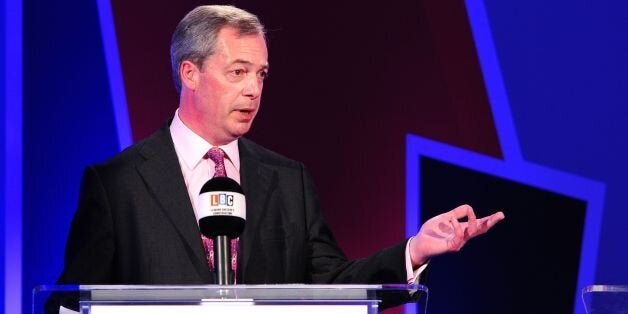 Nigel Farage has said he is "quite proud" that he has successfully persuaded former British National Party voters to switch their support to Ukip.
Speaking at the Chatham House think-tank on Monday afternoon, Farage acknowledged that some of his party's support came from the far-right but stressed Ukip had "no truck" with the BNP.
"What we did, starting with the Oldham by-election in the north of England, is for the first time try and deal with the BNP question by going out and saying to BNP voters; 'if you're voting BNP because you're frustrated, upset, with the changes in your community but you're doing it holding your nose because you don't agree with their racist agenda, come and vote for us'.
"I would think we have probably taken a third of the BNP vote directly from them, I don't think anyone has done more, apart from Nick Griffin on Question Time, to damage the BNP than Ukip and I am quite proud of that."
His comments come after Conservative Foreign Office minister Baroness Warsi repeated her claim that Ukip was supported by BNP voters. In an interview with The Huffington Post UK published on Saturday, Warsi said the Ukip vote "comes from the Tory Party and the Labour Party but I do think there's a chunk of it that comes from the far-right".
Farage also pointed to the fact that he had changed Ukip's constitution in 2008 to ban any former BNP members from joining his party. "I've made it clear we want no truck with BNP types at all," he said.
The Ukip leader has bet everything on coming first in May's European elections. He said that the party would be ploughing the "bulk" of its money into fighting Labour in the Midlands and North of England over the next eight weeks as that's where the undecided votes were.
"Conservatives who are going to vote for Ukip, or lend their vote for Ukip on May 22, who live in Dorset, have made their minds up already," Farage said.
"If we are to overhaul the Labour Party and win the European elections and strike body blow to Miliband in terms of his credibility as a winner, we will do it in the Midlands."
And he said that if Ukip managed to take a significant number of votes of Labour there was "every reason" for Miliband to perform a policy u-turn and match David Cameron's pledge told hold an in/out EU referendum.
Farage indicated he was aware of the impression Ukip would not be able to survive without him at its helm."I've never wanted Ukip to be a one-man-band, I'm not some maniac egotist that has to do every TV interview, far from it," he said.
Asked what would happen when he eventually left as leader, he joked: "I probably won't stand down, I'll probably get killed in some crash, I've had several in my life so far."
Farage also admitted the party needed to win over more young people and women if it was to be successful at the 2015 general election.
"We are not doing as well with young people we're not doing as well with women," he conceded. Farage attributed this to some of the party's representatives making comments that were "repugnant to women".
Farage is due to take on Nick Clegg in the second head-to-head European Union debate on Wednesday evening. After the first debate last week, Farage was criticised for appearing to praise Vladimir Putin.
Defending his comments, he told Chatham House: "I said I don't like him, I wouldn't trust him, wouldn't want to live in his country. But compared with the kids who run foreign policy in this country I have got more respect for him than our lot."
Popular in the Community