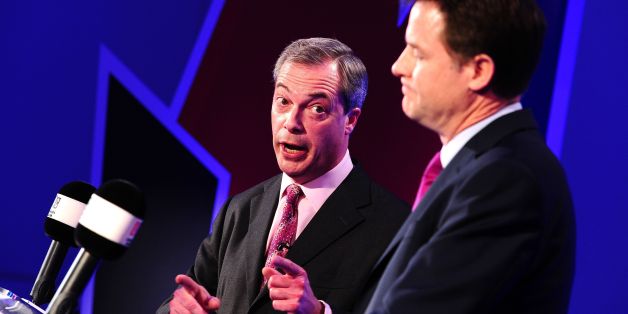 Ian West/WPA-Rota
Nick Clegg is expected to ramp up his attack on Ukip leader Nigel Farage tonight when they face off in a second televised debate.
Polls suggested the Deputy Prime Minister came off worst in the first clash last week, which included arguments over immigration figures and the number of laws coming out of Brussels.
But Farage was criticised over recent days after naming Russian president Vladimir Putin as the world leader he admires most.
Clegg has already branded the comments "grotesque" and "extreme", and is almost certain to raise them during the discussion.
Farage has insisted he was merely expressing respect for Putin's handling of the Syria crisis, not his political approach.
Ukip membership is said to have surged over 25,000 in the LBC radio hosted debate last Wednesday, and party strategists will be hoping he can raise their profile further.
Meanwhile, Clegg is seeking to gain wider advantage by painting himself as a conviction politician - and the only genuine pro-European among the main three leaders.
A poster launched by the party ahead of the showdown on BBC2 this evening mocks David Cameron and Ed Miliband as "missing in action", saying the Liberal Democrats are the only ones "standing up for British jobs".
Party president Tim Farron said: "David Cameron and Ed Miliband have ducked these debates. Nick Clegg is the only political leader prepared to put his neck on the line and stand up for British jobs.