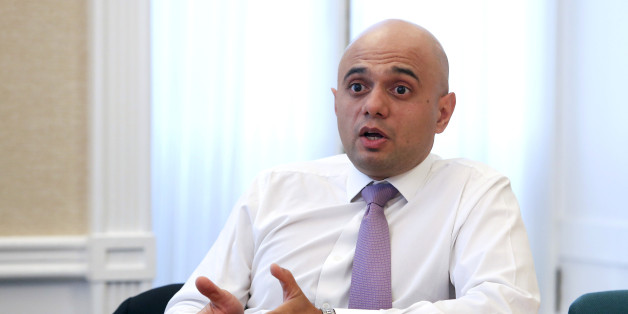 Bloomberg via Getty Images
Sajid Javid has been appointed culture secretary after Maria Miller resigned amid a row over her expenses claims.
David Cameron announced Javid's promotion to the cabinet on Wednesday morning. The Bromsgrove MP had been financial secretary to the Treasury.
Treasury minister Nicky Morgan, has been promoted from economic secretary to the Treasury to fill Javid's old job. Morgan has also been appointed minister for women and will attend the cabinet in that role.
The appointment of Javid, who was seen as likely to receive a promotion in the next reshuffle, caught many Westminster observes off guard as it had been predicted Cameron would want to replace Miller with another woman.
The resignation of Miller and appointment of Javid means there are only now three women who are full members of the cabinet. A fact immediately seized upon by Labour. Shadow home secretary Yvette Cooper tweeted soon after the changes were announced: "Another Cameron (mini) reshuffle, & result is even fewer women in full Cabinet positions. What is David Cameron's problem with women?"
Javid, who is close to George Osborne, has long been seen as a rising star and is the first of the Tory MPs elected in 2010 to become a cabinet minister. He has had a smooth ride to the top, although he was recently criticised by Labour for implying there were no women on the Bank of England MPC because appointments were made on "merit".
He also caused a row with Labour after suggesting there was a "direct link" between Russia's invasion of Ukraine and Ed Miliband's decision to block Western military action in Syria.
Morgan has also had a quiet rise through the ministerial ranks. Although she did cause a bit of a stir earlier this year when she was reported by The Huffington Post UK to have told Conservatives they needed to talk less "about what we hate all the time" and have a more positive agenda.
MOST READ MARIA MILLER STORIES
On Wednesday morning Miller said she took "full responsibility" for her decision to stand down as culture secretary, saying that she did not want to become a "distraction" from the achievements of the government.
She said she had hoped to carry on in office after she was cleared of the central expenses allegation against her by the Commons Standards Committee but it had become clear it was impossible to do so.
"This has been a really difficult 16 months. Because I was cleared of the central allegation made about me by a Labour Member of Parliament, I hoped that I could stay. But it has become clear to me that it has become an enormous distraction," she said. "It is not right that I am distracting from the incredible achievements of this government."
Asked if she had been pressurised into quitting, a clearly emotional Miller said: "I take full responsibility for my decision to resign. I think it is the right thing to do to remove what has become really an unhelpful and very difficult distraction for colleagues."
Asked also whether she believed she had been the victim of a media witch hunt because of her role in implementing the recommendations of the Leveson Inquiry on press standards, she said: "I take full responsibility for the situation. I fully accept the findings of the parliamentary standards report. This is about that."
In a letter to Cameron, Miller said the controversy over her expenses "has become a distraction from the vital work this government is doing".
The prime minister is said to have been "sorry" to receive her resignation. In response to the former cabinet member, Cameron wrote that Miller could be "extremely proud" of her work in government.
The reluctant-sounding PM added: "I hope that you will be able to return to serving the government on the frontbench in due course, and am only sad that you are leaving the government in these circumstances."