In the second installment of our review and interviews with fitspiration brands, we caught up with Nike's Julie Igarashi.
Julie is the vice president of global design for women's training, a big task considering how intrinsic a role Nike plays in women's fitness, from running We Own The Night 10K events to the curated Nike Training App which we couldn't do without.
So, does the kit measure up to the events the brand champions? Read our review at the end...
What does Nike take into account when creating a new piece of clothing - is it driven by demand or design?
The first question we ask ourselves when creating a new piece of apparel or footwear is: 'will this make the athlete better?' This thought informs our every design decision. It is our first, and most important, filter.
Are there different considerations for women's wear than there are for men?
We understand the female athlete often has different tastes than the male athlete, not only in terms of style, but also in the way she trains. This influences the way we design for her.
For example, women tell us they want products that perform at the highest level and that give them the aesthetic they are looking for. Achieving this sweet spot is a particularly important consideration when we design women's product.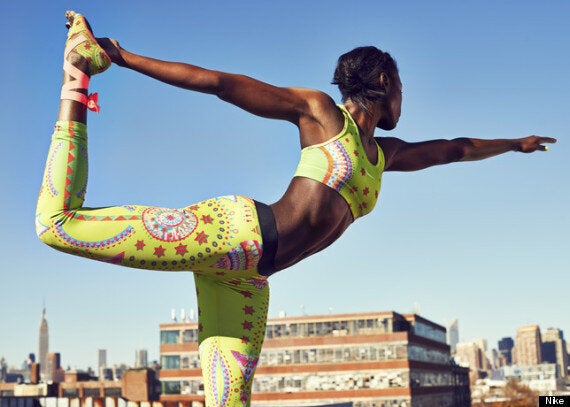 What's the process that takes place from a design on paper to it appearing in the shop?
Our design process starts with the female athlete. We listen to her and study her body in motion. We also work with Nike's sport research lab to develop the scientific insights that inform our design decisions.
We have better manufacturing technology available today than ever before and this allows us to take athlete insights and scientific data and translate them into innovations that help the female athlete move more and move better.
Can you talk us through some of the tech that goes into making Nike activewear for women?
We bring a deep passion and understanding of the science of sport to everything we do. For example, we study maps of the female body that indicate where muscles and heating and cooling zones are. Informed by this data, we can then engineer in areas of stretch, support and breathability where they're needed most.
This extensive amount of research and testing with world-class athletes and Nike's sport research lab has also led to our identification of six core moves an athlete completes when she works out. These core moves—lunge, squat, push, pull, bend and rotate—serve as our design compass. If our footwear and apparel can handle these moves, they can handle most any training an athlete will encounter.
How does training wear differ from running kit?
We design around the body in motion. What that means is we study how the female athlete moves and then create products that enable one's natural motion, rather than restrict it. Running and training movements are different, and so are the needs of the athlete. We create products designed specifically for those needs.
This can mean anything from different cuts and shapes to unique functional features such as zippered pockets for that runner in need of a place to store her keys and zipper-free apparel for an athlete whose training involves floor exercises. Doing a sit-up in a tight with a zipper at the base of your spine can be a distraction, and we design to remove all distractions so an athlete can focus on the task at hand.
Still, we use many of our revolutionary technologies in both running and training wear. For example, Nike Dri-FIT technology is a staple of running and training apparel. It helps keep sweat away from the body to keep athletes dry and comfortable.
What tends to be the most popular items?
We know that the female athlete demands a versatile product that can take her from the gym or studio to the street. We've seen great success with products that can do this, such as our Nike Tight of the Moment, a performance proposition adorned with beautiful artwork created in collaboration with influential artists.
Also, our Nike Tech Fleece apparel has been tremendously successful. There we brought a modern look to a traditional fabric like fleece.
Is there one sport among women that's more popular than the other?
What we're finding to be most popular isn't just one sport. Rather, it's a combination of activities. Today's female athlete is all about versatility. Some days she runs. Others she does yoga or high intensity training, which involves quick and explosive movements, often done in intervals.
Sometimes she does multiple workouts in a given day. This versatility is the key to not only strength, but style as well. Our designs must equip her for whatever workout she chooses, as well as wherever she heads before or after her workout.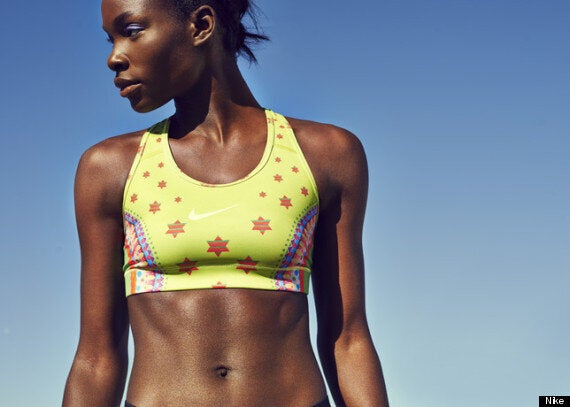 Tried: Crop top, £50, and Tights of the Month, £90
Appearance: These are easily the most mental-looking sportswear I own, but that's a good thing. I love the bold pattern and the neon tick, and although my husband says I look like an extra in a 50 Cent video, I think they look cool. I like that they are so different to what I see other people in the gym wearing - it makes me feel like I'm being fashion forward in a space I don't expect to be.
In action: I own a pair of Nike crop pants which are fairly old, and fairly uncomfortable. I won't be too explicit, but the crotch area is a problem. These tights however clearly demonstrate how quickly Nike are adapting to women's bodies. It is comfortable in all the right places, and when I stretch, the clothing moves along with my body, not against it. These are from the training range, so great for weight lifting and circuits.
Verdict: The price point is at the higher end of the scale but you can really feel the technology working for you. The garments are long-lasting yet unbelievably light, meaning you aren't swaddled in layers of clothing. Plus, have you seen how cool they look?