The campaign for Scottish independence is gaining ground with five months to go until the referendum, according to new polls.
The gap between the two sides has narrowed, suggesting a two-point swing could be enough to secure a "yes" vote on September 18.
An ICM poll for the Scotland on Sunday newspaper shows support for independence is at 39%, while opposition has fallen four points to 42%.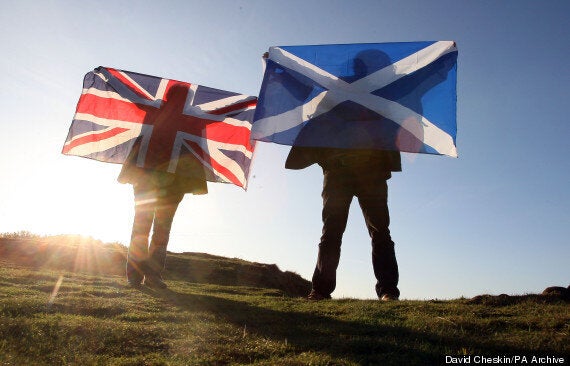 The vote will take place on September 18
Excluding people who have not yet made up their minds, the results put "yes" on 48% and "no" on 52%.
It is the highest level of support for independence since last August, leading the Yes Scotland campaign group to claim it is "confident" of securing the necessary two-point swing.
Yes Scotland chief executive Blair Jenkins said: "The extreme negativity of the 'no' campaign is proving a major turn-off for voters, and month by month they are paying the price."
A second poll by Survation for the Sunday Post newspaper puts a "yes" vote up one point to 38% and a "no" vote down one point to 46%.
When the "don't knows" are stripped out, the results are 55-45 in favour of keeping Scotland in the UK.
The polls were published as it emerged Labour is planning to step up campaigning in Scotland.
Ed Miliband's shadow cabinet will hold a meeting in Glasgow on Friday, while MPs will campaign across the country over the week.
Meanwhile, former prime minister Gordon Brown will focus on the security of pensions as he makes the case for the union during a speech for Better Together in Glasgow.
Yes Scotland is stepping up activity with the launch of a new billboard poster campaign explaining why the country "must" be independent.
Blair Mcdougall, director of Better Together, said his group will also launch an advertising campaign this week.
"Whilst it is welcome that there is a majority in favour of keeping the UK together, these polls are a reminder that there can be no complacency from those who believe that the brightest future for Scotland is to remain in the UK," he said.
"With the launch of our advertising campaign tomorrow and a big grassroots campaign push we will be fighting hard for every single vote between now and polling day. Everybody who wants to keep Scotland in the UK needs to play their part."
Scottish Green Party co-leader Patrick Harvie, who supports independence, said there is still work to do.
"As we get closer to the vote, more people are seeing the exciting possibilities that a 'yes' vote opens up," he said.
"This poll reflects the mounting energy and strength of the grassroots campaign, but we will only succeed if we continue to reach out beyond traditional supporters."