Britain is now a far more open and tolerant country towards homosexuality than it once was, with the proportion of Brits supporting equal marriage quadrupling in four decades.
And the the number of Britons who think homosexual couples should be able to live together openly has more than doubled since 1975, with 90% of people agreeing they should be able to do so.
Almost 70% of Brits agree that "homosexual couples should be allowed to marry each other", whilst just over a quarter disagree, according to new research by Ipsos MORI.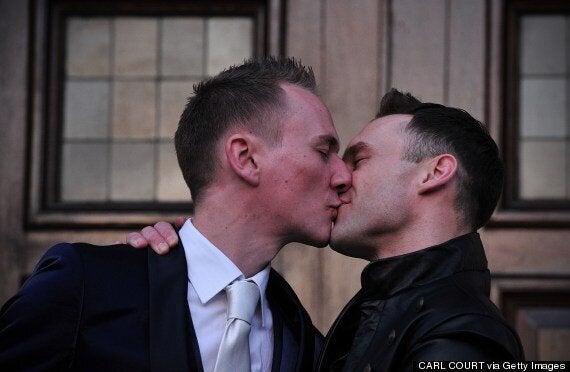 Tim Jarmaine-Groves (L) kisses his husband Richard Jarmaine-Groves after their same-sex wedding in north London
When the same question was asked in November 1975, support for gay marriage stood at 16%, with 53% disagreeing.
The support for gay unions is highest amongst those aged 18-34, with nine in ten people support marriage equality, but a minority of the older generation, 43% of those aged over 65, think the same way.
Three-quarters of both Labour and Liberal Democrat supporters agree with the principle of gay marriage, whilst those who favour the Conservatives and UKIP are less sure, with 61% and 54% respectively backing the unions. But the majority of all the major parties' supporters still agree with the principle of gay marriage.
Simon Atkinson, Assistant Chief Executive at Ipsos MORI, commented: "It is very unusual, even over a period of 40 years, to see such a sea of change in public attitudes.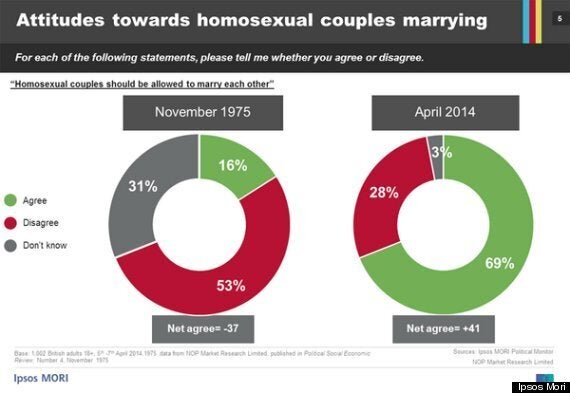 The attitudes, and how they changed over four decades
"People in Britain are clearly behind the recent legislation on gay marriage – a rare example of Parliament and public opinion being very much in tune with each other."
Ipsos MORI interviewed 1,002 adults aged 18 and over across Great Britain.
It shows 17% of Britons thought homosexuality was immoral, the sixth lowest of the 40 countries surveyed and a stark contrast to most intolerant country Ghana, where 98% of people thought this.