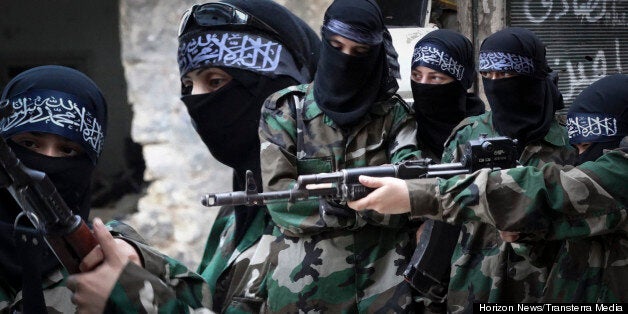 British women could be among the jihadists fighting in Syria, with around 10 predicted to have travelled to the war-torn state to join arms.
Hundreds of Britons are believed have gone to the country as combatants in the bloody battle against against President Bashar Assad.
But there are fears that women joining their husbands in rebel groups to try to oust Assad may inadvertently be helping him stay in power as they clash with other factions, the Daily Mirror said.
The newspaper claimed that 10 British women - two teenagers from Portsmouth, two women from London, another from Surrey and five from cities in the north of England - had travelled to join the jihad.
It is believed they may have linked up with the rebel group Islamic State of Iraq and Syria (ISIS), which is so violent it has reportedly been disowned by al Qaida.
Counter-terrorism officers warned that young, idealistic men were in danger of being radicalised and aspiring jihadis may be travelling to Syria for terror training.
Scotland Yard warned that Britons caught fighting in Syria were crossing a "red line". Some 40 Syria-related arrests were made in the first three months of this year, up from 25 in the whole of last year.
Shiraz Maher, an expert in radicalisation from Kings College London, told the Mirror: "Most British jihadists go to Syria for sincere reasons to help in what they believe is a struggle against oppression but many don't appreciate the reality on the ground.
"They go believing they will fight jihad to overthrow Assad but may actually be getting in the way of the rebellion by joining groups and fuelling the infighting they are involved in.
"Depending on who they sign up with, like ISIS, they will end up fighting some of the original rebel groups such as the Free Syrian Army.
"There is evidence that in the complex struggles ISIS in particular has been infiltrated by Assad's forces."
Around 400 Britons are believed to have gone to Syria over the last two years, authorities believe, with an estimated 20 having died.
His aunt, Amina Deghayes, questioned yesterday's announcement, saying it failed to provide a concrete solution to the problem of young men flocking to fight in the civil war.
She warned that families are already urging their loved ones not to fight, but too often their appeals fall on deaf ears.
Abdullah's two brothers, Jaffar, 16, and 20-year-old Amer, have also travelled to Syria to fight. Despite desperate pleas from their family, they have refused to return home from the frontline.
Officers are working with Muslim charities and community groups nationally on the new campaign. They are also distributing a leaflet in the shape of a passport warning Britons about the dangers of travelling to Syria.