Ukip are having a fair few problems with their advertising this week.
First, it turned out a Ukip 'voter' in the party's manifesto actually worked for Nigel Farage, then it was revealed the man featured on the poster of a sad-faced Englishman left jobless by all those pesky immigrants, is Irish.
Now, some eagle-eyed Redditors have spotted that the party's official Northern Ireland website is featuring a rather unfortunate image.

Clicking on the site, viewers are treated to a banner professing: "To Protect Our Boarders and Defend Our Country" [sic].
Perhaps the party should learn how to spell borders, before declaring it can protect them.
The image used on the banner, to those who are internet-savvy, will be familiar as being the woman behind the 'first world problem' meme.
But, Ukip have used the picture to state the party will serve: "Justice and equality for victims terrorism." (Note the omission of the word "of" in that statement, excellent use of the English language.)
The meme is usually used for far more lighthearted purposes, with users expressing their tragic 'first world' problems: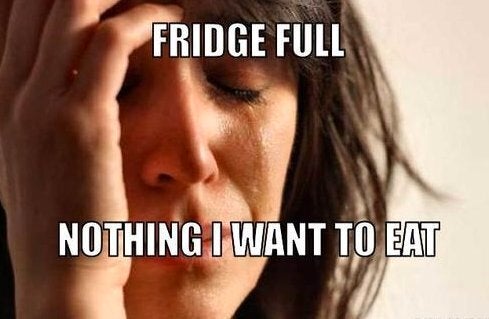 First World Problem Meme
Andre Lampitt expressed "repellent" racist and anti-Islamic views on social media, the party said.
The Ukip leader acknowledged that "something went wrong" and an internal investigation had been launched to find out how the party failed to spot the offensive Twitter messages.
Lampitt, wearing a builder's hard hat, appeared in a Ukip film shown to TV viewers, complaining that "since the lads from Eastern Europe" had arrived in the UK and undercut him, he had found it a "real struggle" to provide for his family.