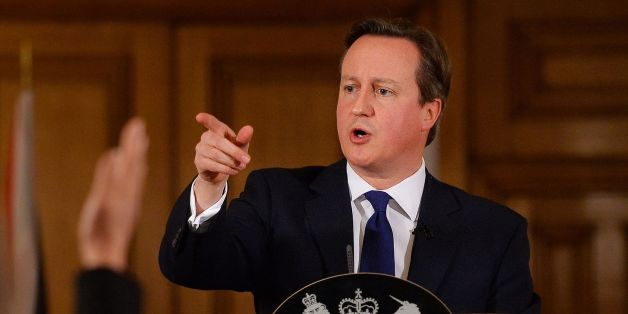 Ben Stansall/WPA-Rota
David Cameron insisted on Friday that he can be trusted not to break his promise to hold a referendum on Britain's membership of the European Union, as he seeks to limit the damage from an expected third place finish in the 22 May European elections.
"To those people who say you won't deliver that renegotiation or referendum, I say: Judge me by my record as prime minister," he said "Others talk about acting in the national interest or standing up to Europe, I do it, time and again – often in the teeth of opposition in Brussels and with a backdrop of uncertainty about whether it can really happen at home."
Cameron has made holding an in/out referendum on a looser relationship with Brussels a key plank of his offer in 2015. The pledge was largely designed to see of the threat from Ukip as well as keep eurosceptic Tory backbenchers happy.
However the prime minister is sensitive to accusations that he will be unwilling or unable to deliver his promise. Nigel Farage delights in reminding voters about the prime minister's unfulfilled "cast-iron" guarantee of a referendum on the Lisbon treaty. And warns that Cameron will once again find a way to wriggle out of the pledge.
Cameron will said in a speech today: "I have a track record of delivery - and believe me, whatever it takes, I will deliver this in-out referendum.
 Labour won't. Ukip can't. I will."
"People said I would never veto a European treaty. In 2011 that's exactly what I did. People said my attempts to cut the European budget would fail. But I secured that cut."
Earlier this week Cameron suggested to activists in an American-style campaign conference call that his in-out referendum would be a 'red line' in any future coalition negations with the Lib Dems. He hammered that message home today when he said: "I made clear I would not lead a government that either could not or did not deliver an in/out referendum."
He added: "Let me be absolutely clear. The British people need to have their say on our membership of the EU. For me this is a fundamental principle. And I would not be prime minister of a government unless we could carry out our pledge of an in-out referendum."
Ukip is widely expected to come first in May's European elections ahead of Labour. The Tories are resigned to finishing a distant third while the Lib Dems face the prospect of being entirely wiped out.
However more of a worry for Downing Street is the prospect that a sizeable support for Ukip in marginal constituencies at the general election could split the centre-right vote and let Labour candidates in through the middle - placing Ed Miliband in No.10.
Cameron's referendum pledge is in part designed to depress the Ukip vote by warning eurosceptics that the only way to guarantee a referendum is to return the Tories to power.
SEE ALSO:Miliband Ally Warns Labour Ukip Strategy A 'Complete Hash'