A union leader has accused Boris Johnson of "intervening" to derail talks aimed at reaching an agreement to avoid a 72-hour tube strike by London Underground workers, which is now is set to go ahead from Monday.
Leaders of the Rail, Maritime and Transport (RMT) union met with LU officials all day at the conciliation service Acas to try to end a deadlocked row over Tube ticket offices but the talks ended without agreement.
The RMT said LU was sticking to its plans to close every ticket office, with the loss of over 900 jobs, so a three day strike would go ahead from 9pm on Monday.
RMT acting general secretary Mick Cash said he suspected the London mayor had intervened and "wrecked" a potential deal.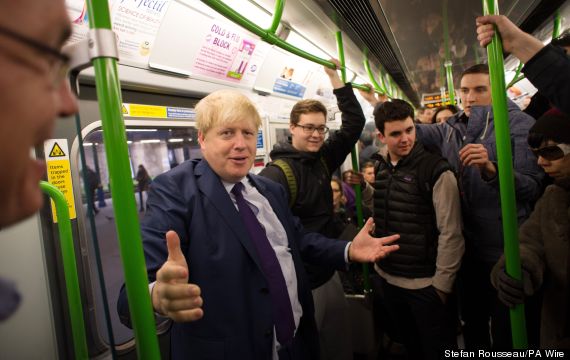 Boris Johnson was accused of intervening in talks that ended without an agreement
He said: "RMT negotiators worked flat out today at Acas to try and reach an agreement which could allow for a suspension of the action and late this afternoon we had a workable framework which could have triggered that suspension.
"However, right at the death LU changed tack and lobbed in a hand grenade, demanding not a suspension of the action but that the entire dispute be called off, pre-empting the outcome of the next stage of the process and imposing a condition that they knew we could never agree to.
"I am angry and bitterly disappointed that a deal which could have allowed for a suspension of Tube strike action has been wrecked at the last minute and we suspect the intervention of the Mayor who seems hell bent on using this dispute to further his own political objective of leading the Tory Party."
The action will hit services for a second week after a 48-hour stoppage caused huge disruption in the past few days.
LU said it ran half of services during this week's strike.
Reacting to news the talks had failed, Johnson said: "Once again London is being held to ransom by a minority of just one union, the RMT, who, unlike the other three unions, and on a ballot taken last November with just 30% support, is digging in its heels and refusing to play its part in shaping the future of the Tube.
"Less than 3% of journeys involve a visit to Victorian-era ticket offices, which cost Londoners £50 million a year to run. It makes absolutely no sense to keep them open.
"Our plans will see more staff available in the public areas of stations - at ticket machines, gate lines and platforms - meaning that face to face customer service and the ability to help people will be enhanced not reduced.
"As we have stressed throughout, these plans will result in no compulsory redundancies, no-one will lose their job as a result of these changes. I am therefore baffled - as I am sure many Londoners are - as to why the RMT leadership has chosen to force its members - seven in 10 of whom didn't support industrial action - out on strike yet again.
"This week, London Underground managed to run a service on all 11 of its lines, with 93% of normal Oystercards in use. Londoners and the London Underground workers who came to work showed huge spirit and determination in keeping our capital moving. I am sure next week will be no different and I thank everyone for their continued forbearance."