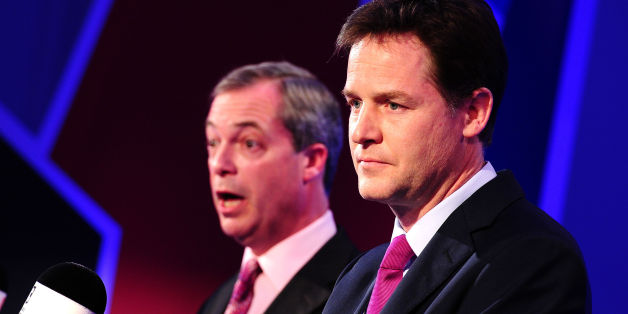 Ian West/PA Wire
Ukip has replaced the Liberal Democrats as Britain's protest vote, Nick Clegg is set to argue today.
The Deputy Prime Minister will today insist the Lib Dems have become a serious party of government, as he launches his party's local election campaign.
He will accuse Ukip of stoking up anger then offering "fake solutions and dangerous fantasies".
At the Ministry of Sound nightclub in London, he will insist the Lib Dems are the only party that can fix Labour's mess, rein in the Tories and stand up to Nigel Farage's party, calling on supporters to "shout it from the rooftops".
Mr Clegg faces a tough fight to rally support when voters go to the ballot box later this month, with polling over the weekend for the Euro-election putting Ukip on 29%, Labour on 26%, the Conservatives on 23% and Lib Dems on 10%.
His party's battle to save English town hall seats will focus on the Lib Dem's record on freezing council tax - a policy encouraged by central government - and protecting key services.
At the launch, Lib Dems will unveil a dossier they claim sets out more than £500m worth of "vanity projects" and "elaborate" expense claims racked up by Tory and Labour-run councils.
Mr Clegg say: "The local elections are different for us now, the Euros too. Bluntly, we are not the protest vote any more. But I have never wanted the Liberal Democrats to be just the 'none of the above' party.
"Everything I have done as leader has been about taking us onto the next stage: making the Liberal Democrats a serious party of government - national and local too.
"Ukip is Britain's protest party now and they're revelling in it. They think that all they need to do is stoke up people's anger, offering up fake solutions and dangerous fantasies - not least that idea that we could solve every problem Britain has in an instant, if only we left the EU.
"Well, the Liberal Democrats stand for something. We stand for fairer taxes. We stand for an economic rescue plan that isn't just built on cuts, but where we invest in roads, rail, business and all the things our communities need to thrive.
"We stand for an education system full of opportunities, so that we enable every young person to get on in life, regardless of the circumstances of their birth. We stand for modern, British values, which is why we worked so hard to make Britain a place where you can get married whether you're gay or straight.
"We stand for doing our bit in the world through aid and development, even when it's controversial at home. We stand for protecting our environment and fighting climate change, even when our opponents seem to have given up.
"We stand for keeping Britain an open and outward facing nation where we do what we work with others and lead on the world stage.
"And, whichever elections people are voting in on 22nd May, whether in the locals or the Euros, we can now say to them: don't support us simply to stick two fingers to the others.
"Support us because in town halls, in Whitehall and in Europe we are proving that in the most difficult of times we can be trusted with the things that matter most to people: Their money; their jobs; their economy; their families' futures; the trade and openness upon which our prosperity depends; their nation's place in the world.
"I am proud to go out there and campaign on that record, and for those values.
"Shout it from the rooftops: if you want a party that can fix Labour's mess, if you want a party that can rein in the Tories, if you want a party brave enough to stand up to Ukip, if you want a party that will deliver a stronger economy and a fairer society, not one or the other, but both, you've got it: vote Lib Dem."
Voters go to the polls for the English council and European Parliament elections on May 22.