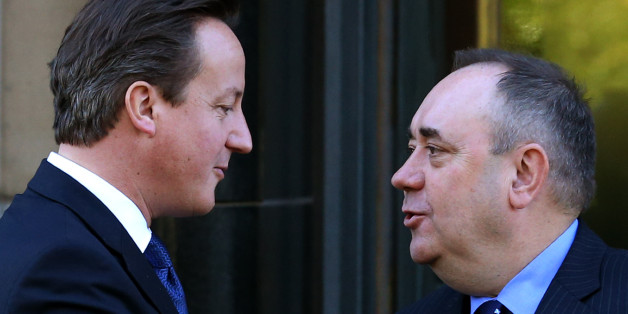 Andrew Milligan/PA Wire
David Cameron has no intention of resigning should Scotland vote for independence later this year, it has been reported.
Scottish voters will decide whether to break-up the United Kingdom on September 18. A 'yes' vote would be a devastating blow for the prime minister, but according to the Daily Mail he would not quit No.10.
A source close to Cameron told the paper: "He would not resign - definitely not. In Scotland, Labour is the big, dominant political force. Does Ed Miliband have to resign too if there's a yes vote?"
Polls have consistently shown a sold lead for the Better Together anti-independence campaign. However the gap has narrowed in recent weeks, giving hope to Alex Salmond and the SNP.
The firm pledge from Cameron not to quit could be designed to deter Scots from voting for independence in part to punish the Conservative Party, which is not hugely popular in Scotland.
A Labour Party source told the Scottish Herald that the prime minister's interventions in the independence debate had not been helpful. "Cameron is toxic. Everyone knows that," the source said.
In recognition of its dominance in the country, much of the heavy lifting in the 'no' campaign has been left to Labour. With that in mind a 'yes' vote could be equally damaging for Miliband.
Shadow cabinet minister Angela Eagle told HuffPost UK on Tuesday that Labout was "the only party nationally that can deliver a 'no' vote in the Scottish referendum".
"We are much stronger as a country with the Scottish nation as part of our United Kingdom. The Labour Party has an important part to play. It's quite clear the nationalists are targeting Labour voters."
When asked recently whether Cameron should resign if he ends up being the last prime minister of the 300-year-old union, an SNP spokesperson said that was a decision for him.
"What David Cameron does after a Yes vote is a matter for him – but one of the main reasons for independence is that Scotland would never have a Tory Prime Minister with no support in Scotland foisted on us again," the spokesperson said.
"With his leadership coming under increasing scrutiny amidst the No campaign's falling poll ratings, David Cameron should do the right thing and agree to a head to head debate with the First Minister – as supported by the majority of people in Scotland."