David Cameron's valiant effort to prove he is a normal human being has gone a step further, with the prime minister having been snapped chowing on some chicken in Nando's.
Perhaps the Tory leader will take inspiration from Nando's 'super fan' Bradley Holman and get one of the world's worst tattoos - Barcelos the Nando's Cockerel mascot inked on his right bum cheek.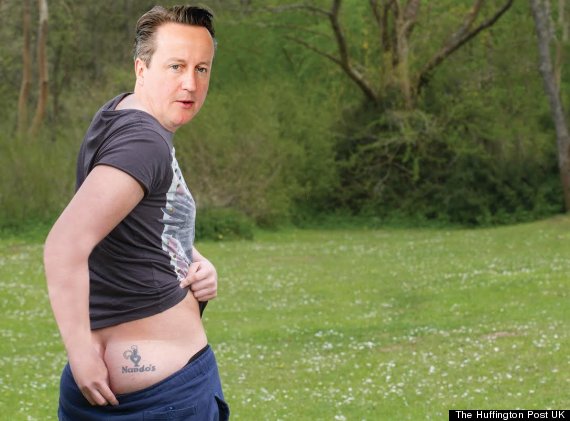 Excited diners at the food chain in Bristol tweeted their shock as Cameron sat down for dinner at the restaurant in Park Street with colleagues.
Oh my days in nandos and David Cameron walks in pic.twitter.com/S1q7v1iony

— Melissa Bennett (@Melissabennett_) May 8, 2014
Yeah I met the prime minister in nandos #nandick#DC@David_Cameronpic.twitter.com/l8S0b5zZHU

— George McMullen (@George_McMullen) May 8, 2014
Many Twitter users were quick to speculate whether the Prime Minister's dining choice was a a result of theongoing 'Halal hysteria' currently gripping the country.
This week, amid the scandal in which supermarkets and restaurants came under fire over their labelling of chicken and other meat, Nando's revealed that in 64 of their 314 restaurants, only halal chicken is served.
But the Prime Minister's choice of restaurant was one of the non-halal branches, according to their website.
According to The Mail Cameron ate a half chicken with hot Peri Peri sauce, coleslaw and a regular order of fries accompanied by a glass of red wine at around 8pm.
I knew there was a reason I dragged @Melissabennett_ to Nandos. David Cameron only went and turned up!!! pic.twitter.com/xvxqjrGUxF

— Hollie Buckle (@hbuckle) May 8, 2014
@David_Cameron in Nandos on Park Street... pic.twitter.com/QnLj7KkQHk

— Oscar Haines (@Oscar191) May 8, 2014
The premier even stopped for a selfie:
#snapapolitician lol pic.twitter.com/LVbpK3jzya

— Becky Smith (@bixsmith) May 8, 2014
The incident echoes when George Osborne posted a picture of himself eating a burger before delivering last year's spending review.
The chancellor's followers were less than impressed with his attempt at eating "man of the people" food along with a lot of coke pictured on the table.
Putting final touches to the speech #SR2013pic.twitter.com/jk3FYmqVnm

— George Osborne (@George_Osborne) June 25, 2013