A year ago, Manchester City's players walked past the FA Cup as runners-up and would days later lament that their game in hand at Reading had prevented them from celebrating Roberto Mancini's sacking. On Sunday, the Italian's replacement, Manuel Pellegrini, was launched into the air a champion.
City's players might have granted the Chilean such an honour even if they had lost to West Ham. Pellegrini has not publicly criticised them on a weekly basis or admitted he wanted to punch Samir Nasri. How apt Nasri scored the goals which clinched the two trophies that will glisten in City's trophy cabinet over the next year.
"It was a moment to celebrate," Pellegrini, wearing his winner's medal, chuckled. "Any kind of celebration is allowed." Pellegrini is not accustomed to such merriment, as journalists received complimentary glasses of champagne.
"You can stick your Pellegrini up your arse," militant City supporters chanted at last season's Cup final. Mancini's following ensured Pellegrini's inevitable arrival would be met with scepticism, however he had also won nothing during his coaching career in Europe.
Manchester United took a similar gamble with David Moyes, although City carefully chose a manager with Champions League credibility and who preached the importance of aesthetic football.
Pellegrini refused to compromise his ethos despite early setbacks on the road at Cardiff and Aston Villa.
"I think for me, there were two key moments in the season," he explained. "One of them was at the beginning of the season when we played the first six games away and won just four points, it's not too many points, but in that moment I spoke with the players and said I believed in the way we worked and that we would play the same way.
"I said we are going to continue playing the same way because I didn't think we deserved to lose those points.
"And the second moment was after we played against Liverpool in a game that we didn't deserve to lose 3-2, but we never gave up the hope that Liverpool could lose points also. So we continued playing, we started a difficult game against Sunderland, it was not the best week, but the team never resigned and we won the last five games."
City made up an eight-point deficit with just six games remaining to edge United to the championship two years ago, and that resilience has been evident again over the last month.
What was the most important factor behind City's latest recovery?
"The trust, the trust in the way we play," Pellegrini stressed. "I think that, for our team, it was a very difficult season. We were top of the table for just a few days, for different reasons, we had three games in hand, but we are always looking at the table and we were nine points behind Chelsea or eight behind Liverpool in some moments, five points behind Arsenal. Maybe it was the strength but I repeat: the players always believed in what we did."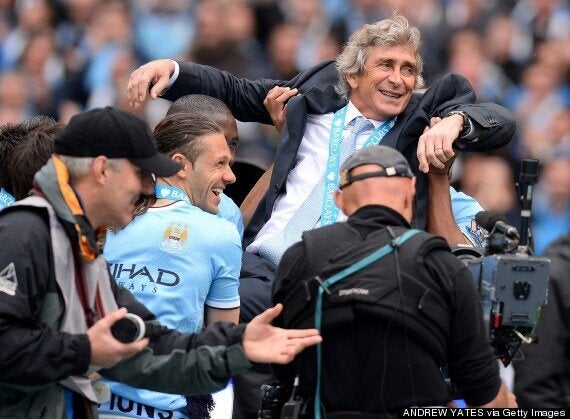 Pellegrini is launched into the air by City's players during the post-match celebrations
Photographs commemorating City's first title win in 44 years adorn the perimeter of the Etihad Stadium, although Mancini has, harshly, been airbrushed out despite overseeing City's ascension to English champions.
Mancini infused City with a winning mentality after 35 trophyless years of mediocrity, relegation and comedy. Diplomatically, Pellegrini paid homage to his impact.
"This club has worked very well in the last four years," he added. "It had a big team with fans, but it could not always fight for the title. The owners work in a very humble way and the directors are trying to improve this club every year.
"This started, maybe, two seasons ago with Roberto Mancini when he won the title and the cup, we have tried to continue improving on our success."
Pellegrini's family had flown over from Chile to join him for the post-match celebrations. Hailed as the "charming man" by City supporters, a Smiths reference is a suitable method to confirm an outsider's acceptance as an adopted Mancunian.
He spoke of his "pride" at managing City and his defence of Nasri, whose World Cup place with France is inexplicably in jeopardy, highlighted the bond between manager and players. "He is one of the best players in the Premier League… It will be an important mistake if he does not play at the World Cup," Pellegrini warned Didier Deschamps.
The gulf between City and United ended at 22 points this campaign – a 33-point swing from last season – which highlights the harmony Pellegrini has brought to Eastlands and the havoc Moyes wreaked three miles away.
Although City spent over £100 million in the summer, their success is largely owed to the group of title winners from two seasons ago. Edin Džeko, on the verge of leaving the club in the summer, scored five goals in three games following Steven Gerrard's significant slip at Chelsea, Nasri struck the winner against West Ham United, David Silva has sparkled during the run-in, while Joe Hart and Vincent Kompany have improved this term.
Pellegrini believes City were too pragmatic under Mancini.
"It was not easy," he said of altering City's style, citing two reasons for the team's evolution. "Maybe one of the reasons why we didn't start the season so well… well maybe two. One was we tried to qualify for the last 16 of the Champions League but the most important thing was that I changed the way this team played. I like this style of play. I am not criticising the other style, it was very important for me to give the reasons to trust the players and change the way they played before.
"It's not easy, maybe if I didn't win the title there would be a very good reason. It was my first year here in the Premier League and I had to change a lot of things. I never wanted to have an excuse for different things. I just try to play in the way that this team must play because I like the style of play. It was a season that the fans, the players and me, also, enjoyed."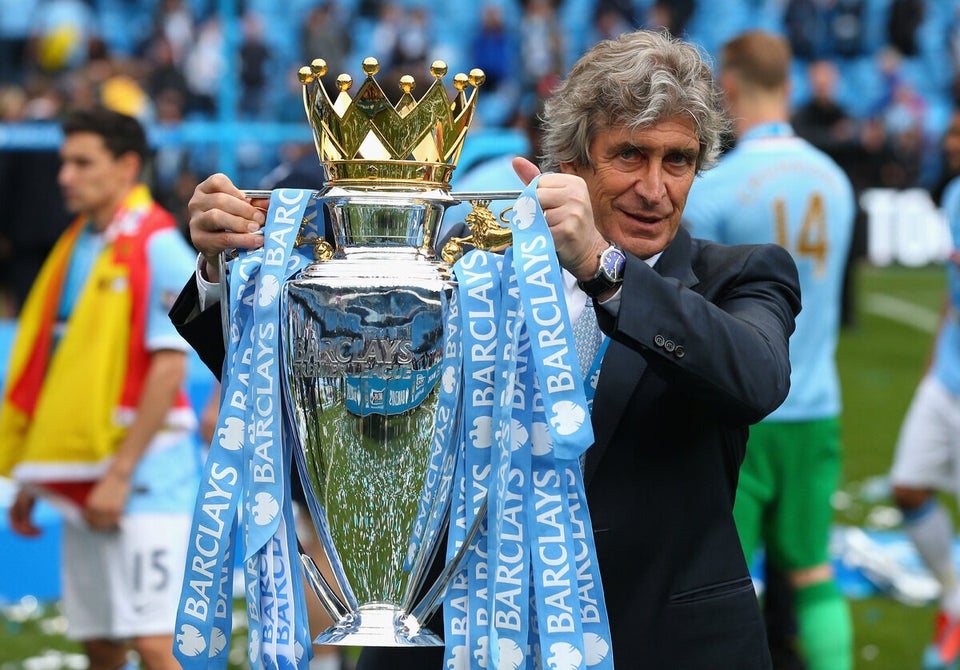 Manuel Pellegrini
"For me, it's very important to go for the match from the beginning," Pellegrini bullishly declared. "It doesn't matter where you play or against who you play. It's easy to score a goal and go behind the ball, sometimes to play as a team with the counter-attack, we have players to play the counter-attack, we have good, technical players.
"But for me, again it's not a criticism, to win titles in that way for me, I wouldn't be happy. We have a record goals for competitions scored here in England, it's the way this team must play with the quality of player we have."
Pellegrini argued City's shock FA Cup quarter-final defeat to Wigan Athletic was a blessing in disguise. Had they overcome the Championship side their fixture at Liverpool would have been delayed an additional three days. Chelsea might have taken advantage.
"Out of all the [top four] sides we kept going the longest in all four competitions," Pellegrini added, "and we've managed to win two of them as well. We needed to get further in the Champions League, but the home game killed us off, it was a decisive moment with the sending off of [Martín] Demichelis.
"The Wigan defeat was quite tough to bear but when you consider we've played 15 more games than Liverpool in the entire season, maybe, if we had gone further in the FA Cup, we might not be sitting here today in this situation."
Pellegrini's placidness was certainly a pivotal factor behind the club's recovery, but had he ever lost his temper?
"Maybe, but that's private," he laughed. City have learnt from their public humiliations.
Related