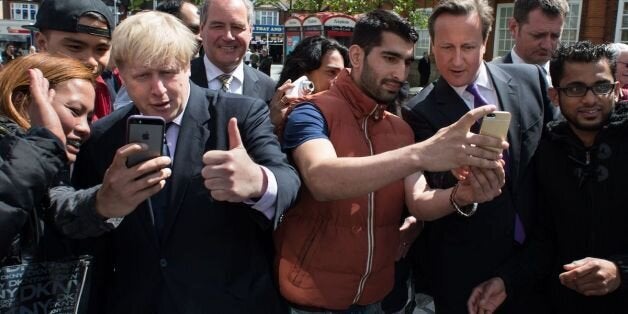 David Cameron denied being frustrated at Boris Johnson's failure to declare whether he will seek a Commons return as the Prime Minister and London Mayor took to the campaign trail together. He insisted there was no rush for a decision despite Johnson causing frustration in Tory ranks by keeping his intentions private - weeks after Mr Cameron declaring his desire to see him return to Parliament by 2015.
"I don't think it's time for that yet," the PM said as he faced repeated questions on the issue as the pair toured a skill centre and met shoppers in north west London. Boris has got vital work to do as Mayor of London. All I am saying is that the options are open to him."
Cameron has described Johnson - among the favourites to succeed him as Conservative leader - as a star striker missing from his team.
But he consigned his party colleague to defensive duties when they took on - and beat - youngsters in a game of table football. "It's not a question of keeping me waiting," he told ITV London News afterwards. "I have an excellent team of cabinet ministers, we have a very clear plan - particularly the economic plan - to keep putting in place between now and the general election and when Boris makes his decision about whether to come back to Parliament or not, he will be welcome as part of the team."
He added: "We have always worked very closely together and Boris has done a fantastic job as mayor. I know he wants to complete his term. I hope he will also though be returning to the House of Commons and...be one of the players on the pitch."
Johnson - whose term runs to 2016 but would be allowed to continue at City Hall at the same time as serving as an MP - has been linked with a series of safe Conservative seats. But the former MP for Henley has continually ducked demands to declare his intent to stand in the 2015 general election or in a by-election before then.
During the game of football Cameron made a cheeky reference to Chelsea footballer Ashley Cole after it was confirmed the veteran left-back had been left out of England's World Cup squad. "That was the Ashley Cole special," he quipped after the Mayor scored an own goal while in control of the blue team's defence, an equaliser for the youngsters of the Harrow Skills Centre.
Earlier, he had stood on watching while Mr Johnson tried his hand at mixing concrete, telling him: "You show me how it's done." He joked that there were "a few people" he would willingly bury in some of the finished product. During a walkabout on a busy shopping street in Harrow-on-the-Hill, Mr Cameron asked a stall holder if he had any English strawberries - but was told they were all Spanish.
"We're all European now, aren't we?" the trader said during the campaign visit ahead of European Parliament and local elections on May 22. Mr Cameron confirmed his intent to legislate to introduce a minimum threshold on strike ballots if he wins the general election - meaning at least 50% of eligible members must back action for it to be able to go ahead.
He rejected claims of hypocrisy given that Johnson - who has pushed for the change following a series of London Underground strikes - was elected by fewer than half of Londoners. Politicians could be held to account throughout their tenure, he said. "There is a difference between that kind of vote and a vote for a strike where you are causing mayhem to people's working lives and there is a legitimate difference.
"You should not be able to strike in essential services unless you have a good number of your members behind you."