UPDATE Cat Saves Boy From Dog Attack: Hear The Panicked 911 Call Here (AUDIO)
The dog which attacked a boy in a viral video which saw him being saved by his cat will be put down, it has been reported.
It comes after the animal was filmed attacking a four-year-old boy while he rode his bicycle in Bakersfield, California.
The eight-month-old Labrador/ chow mix is believed to have escaped its yard as its owner was pulling their vehicle out of their gated driveway.
As the animal sank its teeth into Jeremy Triantafilo's leg, the family pet cat Tara is seen shooting into the frame, chasing the dog away.
Jeremy was left needing 10 stitches in his leg after the mauling by what he described as "that mean dog".
Tara's bravery undoubtedly spared the four-year-old further injuries.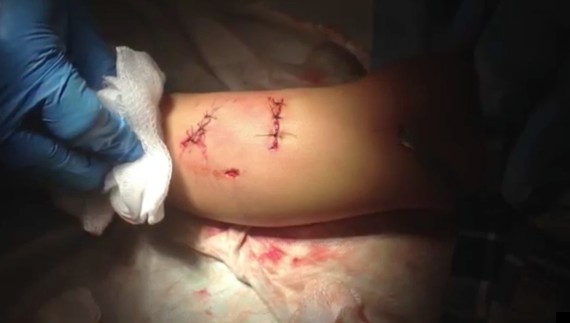 Jeremy Triantafilo received 10 stitches after the attack
Sgt Joe Grubbs, Bakersfield Police spokesman told 23ABC the dog will be quarantined for 10 days then euthanised.
The dog's owner called the police on behalf of the boy and his mother after the attack.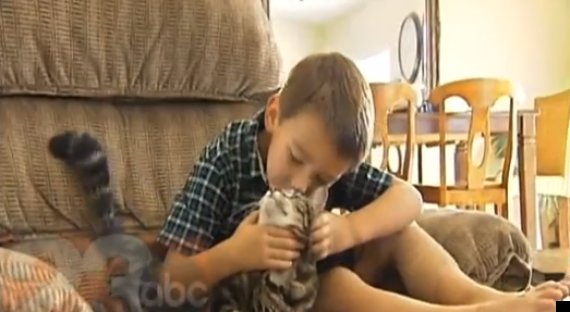 Jeremy and Tara share a kiss
"The owners later delivered the dog to the Bakersfield Animal Care Centre," reports Kern Golden Empire.
Since the attack rescue cat Tara has been hailed a hero and has been promised "salmon for life" by Jeremy's father Roger.
Cat Saves Boy From Dog Attack: The Internet Reacts