During Friday's car-crash interview Farage was asked what the difference was between having a group of Romanian men or German children as neighbours.
"You know what the difference is," Farage murmured in response.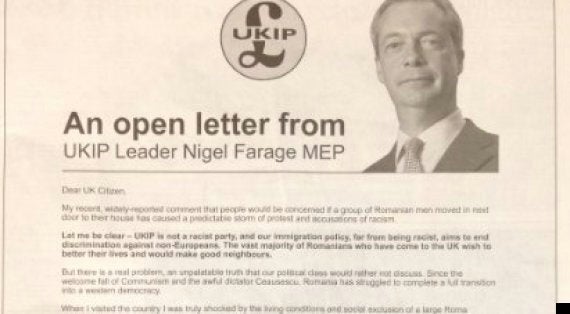 The open letter from Nigel Farage in Monday's Telegraph
"I should have just hit back immediately and said, look, understand there is a real problem here, you can't deny it.
"Too much criminality from those gangs from Romania has come to London - I could have been clearer. But, do you know what? In life, sometimes we get things wrong."
But that admission was a million miles away from the intransigent rhetoric of the Telegraph advert, entitled 'An Open Letter From Ukip Leader Nigel Farage MEP' and addressed 'Dear UK citizen'.
It points out several statistics about Romanian crime, including one allegation that 92% of crimes at London ATMs are committed by Romanians.
"Since the welcome fall of Communism and the awful dictator Ceaucescu, Romania has struggle to complete a full transition into a western democracy," the letter states.
"We should not be in a political union with Romania, with an open door to all their citizens. Then we can give Romanians who want to come to the UK work permits and do the necessary checks. When this happens, my answer to the question, 'Should people be concerned if a group of Romanian men moved in next door?' will be 'No'."
Ukip are working to arrange a carnival in London on Tuesday to allow Farage to show off his support from black and Asian groups, the Telegraph reported.
Farage had on Saturday issued a statement far more in line with the Telegraph letter, defending the comments and saying calling him racist was a "false accusation of racism levelled by a politically correct elite".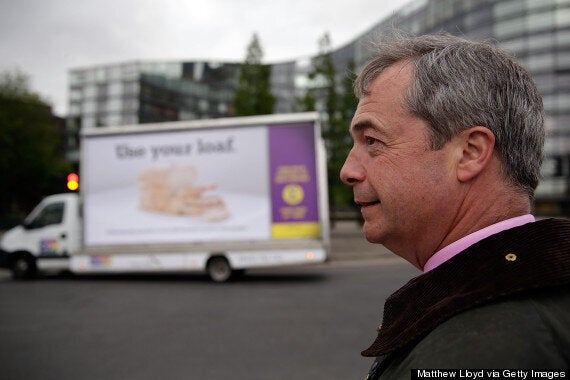 Nigel Farage looks on as a van carrying a new UKIP campaign poster for European Elections is driven around Lambeth Bridge
"Any normal and fair-minded person would have a perfect right to be concerned if a group of Romanian people suddenly moved in next door," he continued. "So far as I can see most of those media commentators objecting to this statement are people living in million pound houses for whom the prospect of such a turn of events is not a real one."
Labour leader Ed Miliband told Sky News he thought the comments were "a racial slur but I don't think of Nigel Farage as a racist himself".
"I think the mask is starting to slip and I think what's being revealed that sort of behind the beer-swilling bonhomie is a rather nasty view of the world.
"I think anyone who singles out one community, one nationality, and says 'I don't want to live next door to them', I really think that's the politics of division and I think it really should have no place in modern Britain.
"I would say to people if you don't like that point of view, if, like me, you are really put off by this very divisive, nasty approach to things then please go out and vote.
"The more people don't vote the more likely it is that Ukip will get in."
The Sun newspaper also criticised Farage, calling the comments "racism, pure and simple".
Related