As the country waits to see if predictions of a Ukip "earthquake" at Thursday's elections comes to pass, one local branch is sure of support the eurosceptics can count on - the dead.
A tasteless leaflet apparently put out by the party, bearing the address of its headquarters, shows a solemn black-and-white image of rows of war graves in France.
"They fought and died to keep Britain free from foreign invasion and control by foreign powers.
"Don't let their sacrifice be in vain. Vote Ukip. For them, for freedom, for Britain."
Tory defence minister Andrew Murrison called the picture sickening.
"We should be honouring our fallen heroes respectfully in this important year of remembrance, not twisting their service for political purposes. Any attempt to invoke fears of 'foreign invasion' alongside images of war graves is offensive and irresponsible."
One Ukip council candidate also criticised the poster, calling it "cheap, disrespectful and completely out of context".
Chris Wood, standing in Penistone East, said: "These men and women died fighting against something completely different and who knows what their thoughts would have been regarding the situation today. They were probably dreaming of the peace we share now at the time they were fighting."
Tory peer Lord Debden also said the campaign showed "Ukip stands for the worst in human beings: our prejudice, selfishness, and fear".
Ukip was also forced to suspend Andre Lampitt, a star of its latest election broadcast for expressing "repellent views" after it emerged he had warned on social networks about Britain having "open gates to Islam".
Local campaigns have included images of an Native American, with the slogan "He used to ignore immigration, now he lives on a reservation" and one image of the white cliffs of Dover with the misspelt caption 'Sorry We're Are Full'.
Story continues below the slideshow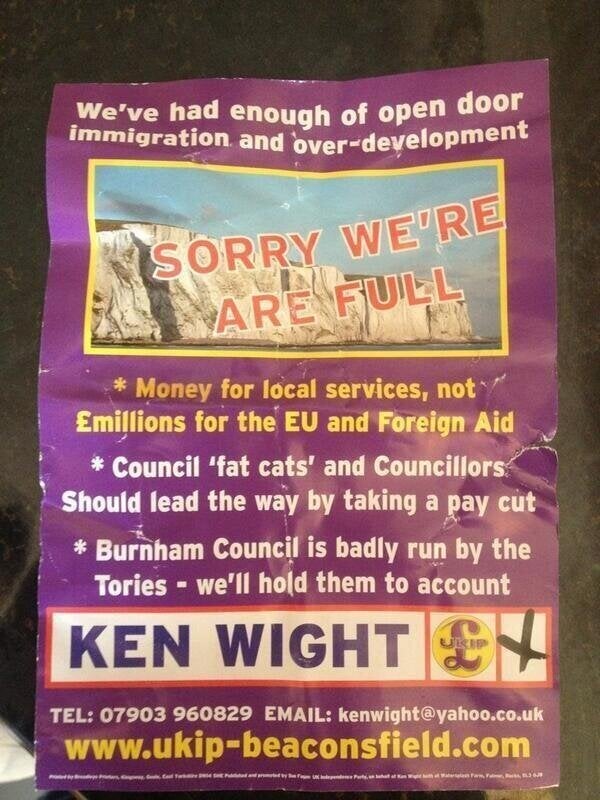 Silly Ukip Flyers
With just two days to go until European elections which Ukip is widely expected to win and push the Tories into third place, David Cameron urged voters not to be "tempted" by Ukip, saying the eurosceptic party is being "found out" by a succession of rows over unpalatable views.
The Prime Minister accused Ukip leader Nigel Farage of making "appalling" remarks about Romanian immigration but declined to join Labour MPs in branding him racist, in an interview with the Daily Mail.
Labour leader Ed Miliband earlier said Farage had made a racial slur, when he told LBC that he would not want Romanians living next door to him, but was not racist.
Yvette Cooper, the shadow home secretary, told ITV News that it was "racist to somehow stir up fears about Romanians living next door. So Ukip should say they were wrong on that."
Farage mounted a staunch defence of his warnings about the dangers posed to the UK of unrestricted immigration from Romania, which he said was "in the grip of organised crime".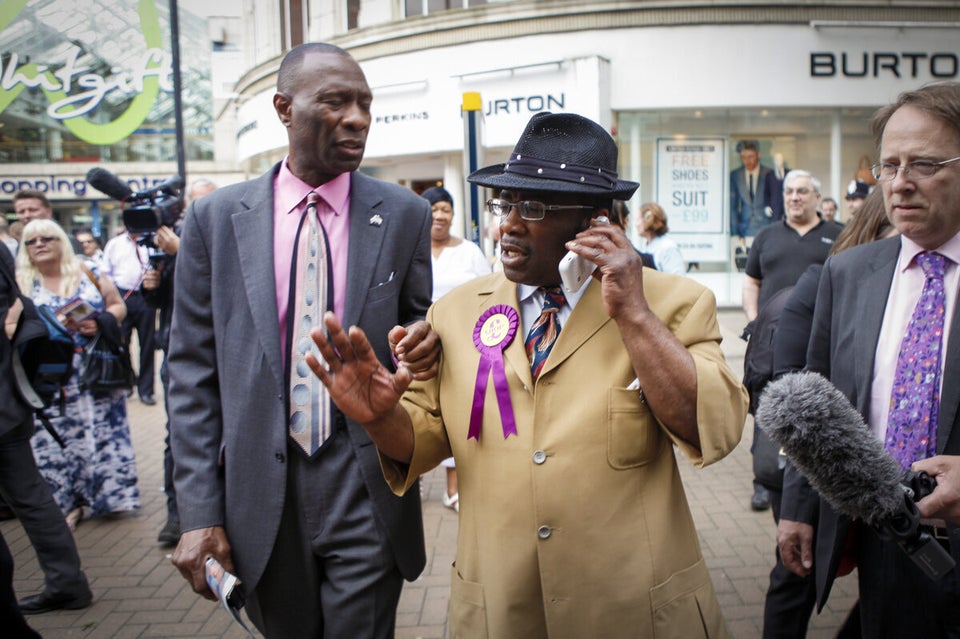 UKIP Carnival