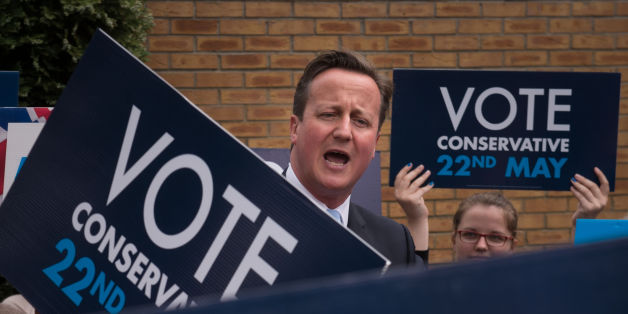 Stefan Rousseau/PA Wire
As polls closed across the UK on Thursday evening, David Cameron signalled he is prepared for a tough weekend ahead for the Conservative Party in the European and local elections, telling activists he is proud of their campaign "whatever the results".
Votes were cast throughout the UK for the European Parliament contest to return 73 MEPs, while more than 4,000 council seats at 161 English local authorities, including the London boroughs, and those in Northern Ireland are also up for election.
With a year to go until the general election, the stakes are high and all parties will be studying the results for indications about their prospects in 2015.
The big winner is expected to be Ukip, with the anti-EU party hoping to usher in a new era in British politics if the results produce the "earthquake" predicted by Nigel Farage.
Counting will take place in some of the local elections overnight, but the European declarations will not begin until Sunday - meaning a wait to see if Ukip's opinion poll lead translates into first place in the contest and a nervous few days for the Liberal Democrats who face the prospect of being wiped out.
SEE ALSO: Local Council Election Declaration Times In Order Of Time
Labour, the Conservatives and Lib Dems will study the results for clues as to whether Ukip is developing into an electoral force which could hold the balance of power at Westminster in 2015 - or if Farage's bubble will burst and disillusioned voters can be tempted back after making a protest at the ballot box this year.
A victory for Ukip could present Cameron with a challenging 12 months in Downing Street as he seeks to appeal to the nation and keep the Eurosceptic wing of the Conservative Party content on issues including immigration.
In an email to Conservative activists sent soon after the polls closed at 10pm on Thursday evening, the prime minister said: "I cannot tell you how much I appreciate the efforts made by Conservative supporters across the country over the past few weeks: the doors you knocked on, the leaflets you delivered, the conversations you had with friends, family and strangers about our plan to deliver real change in Europe and provide good local government that costs less."
He added: "Whatever the results, I feel immensely proud of the campaign we fought together."
Cameron also signalled he intended to quickly try and shift focus away from the issue of Britain's EU membership and onto the economy, an area he feels he is stronger on.
"In 2015, the British people will face a choice: between a long-term economic plan which is securing a better future for Britain and the same old Labour Party offering only more spending, more borrowing and more taxes." he said.
European and local council elections
Labour has claimed a good night would yield an extra 200 councillors, although independent commentators have suggested Ed Miliband's party should be hoping for up to 500 gains.
The party has been pouring resources into seats they will be targeting in next year's general election. A good night would see Labour claim a 25% share in the European elections, giving Ed Miliband's party around 22 MEPs instead of the current 13.
A senior source appeared to concede that Ukip could top the polls and said: "We are now in an era of four-party politics but what we have got to do, and what we hope we are starting to do, is win where it matters in the local elections."
Labour was "ruthlessly" targeting its efforts at battleground seats in next year's Westminster contest, inspired by US president Barack Obama's strategy - masterminded by Labour's new guru David Axelrod - of focusing resources where they would have the most impact.
"We know we are going to have less money than the Tories, so we have got to make better use of the money and people we have got, and to use that in the most sensible way," added the source.
The party hopes the strategy will pay dividends in areas including Redbridge, Croydon and Cambridge.
Thank You pic.twitter.com/Yfu0JeOcTc

— Nigel Farage (@Nigel_Farage) May 22, 2014
Labour strategists will also be hoping to see the Tories failing to hold seats in marginal wards in Basildon, Peterborough, Southend and Swindon - the authority where Mr Miliband failed to recognise the name of the party's senior councillor during a campaign radio interview.
The pro-EU Liberal Democrats have acknowledged they are facing a "difficult" night which could leave it with no representatives in the European Parliament.
The party is set for an electoral mauling in the council contests and is facing a fierce battle to avoid losing control of some of its local authorities, including Kingston-upon-Thames, which includes the Westminster seat of Cabinet minister Ed Davey.
A Lib Dem source has suggested the party's hopes rest on getting their vote out in the strongholds where they have Westminster MPs, so Kingston will be an indication of the success of that strategy.