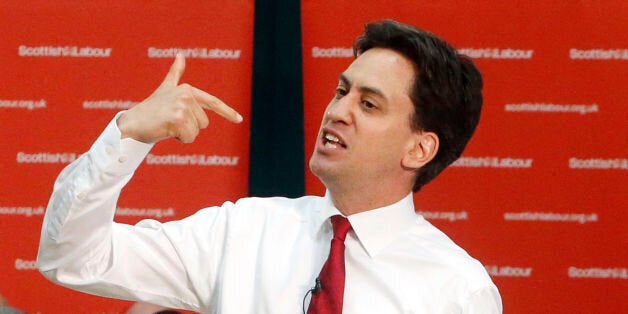 At first glance, the figures look like plain sailing for Ed Miliband's party – the poll found a 6.5% swing from the Conservatives to Labour – enough to topple 83 Tory MPs and give Miliband a "comfortable" majority.
But it also found most voters are optimistic about the economy, a feeling the Conservatives will hope to capitalise on, and only three in ten would rather see Miliband as Prime Minister than David Cameron.
The polling also suggests that nearly seven in 10 people trust Osborne and Cameron most to run the economy.
But, if Ashcroft's results were replicated across the country in 2015, Labour would still see a majority.
Labour's general election co-ordinator Douglas Alexander said the poll confirms that the party is "making real progress."
But, setting out his findings, Lord Ashcroft pointed out: "It will be a battle, but remember this - if the Conservatives can switch one in six Labour voters, two-thirds of those who say they were willing to consider the party, this picture looks very different."
The UK Independence Party (Ukip) was on 18% with the Liberal Democrats scoring just 8% in the poll, which canvassed the opinions of 1,000 voters in each of the areas. Labour won more than 300 extra seats but failed to secure progress in some target areas because of a surge by Ukip.
A projection of what Thursday's local votes would mean at a national level put the party just two points ahead of its main rival by 31% to 29%.
In the poll, Nigel Farage's Ukip - which hopes to translate its recent popularity into Westminster seats next May - was in second place in four seats.
The poll found Labour was winning significant support from former Liberal Democrats - with the junior coalition party losing more than half its 2010 support in the seats - making up 13% of the new Labour vote.
There were encouraging signs for the Tories - who are seeking to win over Ukip supporters by warning that they risk pushing Miliband into Number 10.
More than four in five of those who have defected from the Tories to Ukip said they would rather see Cameron remain as Prime Minister.
In all, 29% said Cameron was doing a good job and almost as many said that, even though they did not, they still thought he would make a better leader of the country.
A separate Ashcroft poll suggested that support for Nigel Farage may not last until general election, with only 51% of Ukip voters likely to vote for the party again in 2015.
One in five Ukip voters is likely to vote Conservative, and one in 10 is likely to vote for Labour, the poll revealed.
"As I have found in the Ashcroft National Poll, half of voters say they may change their mind before the election – and there is still a year to go," Lord Ashcroft commented.
Meanwhile, Cameron, Miliband and Nick Clegg counted the cost of a bruising night at the polls for the local elections last night.
With 160 of 161 English councils declared, Labour has gained 292 seats, the Lib Dems have lost an abysmal 284 and the Conservatives have lost 201.
The BBC's projected national share of the vote suggests UKIP would have scored 17% in a country-wide election. Labour would have got 31% of the vote, just two points ahead of the Conservatives on 29% with the Liberal Democrats on 13%.
On Friday night Farage claimed that Ukip had become a "serious player" in British politics. He has also warned the main parties he will "see them in Westminster" next year.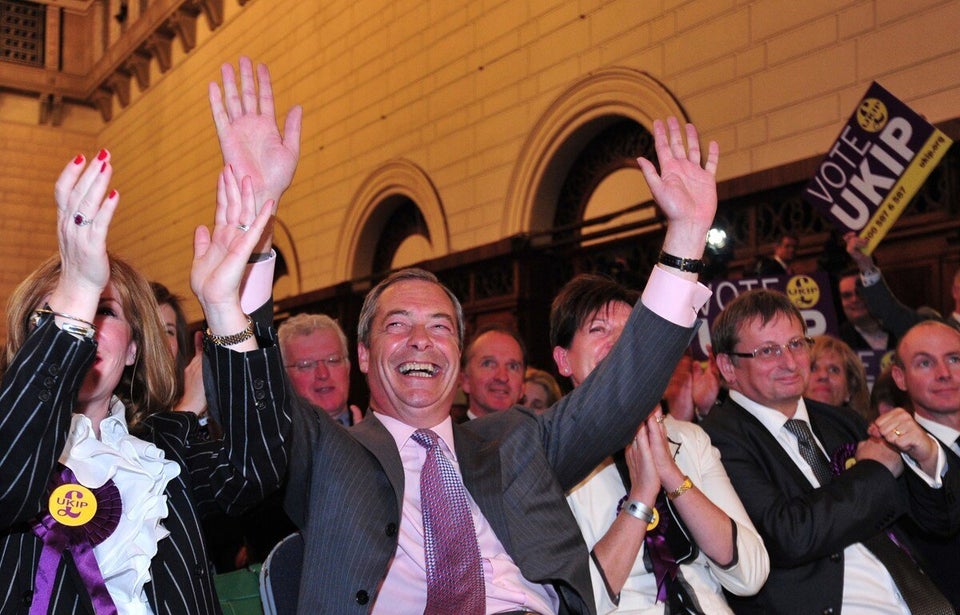 European and local council elections