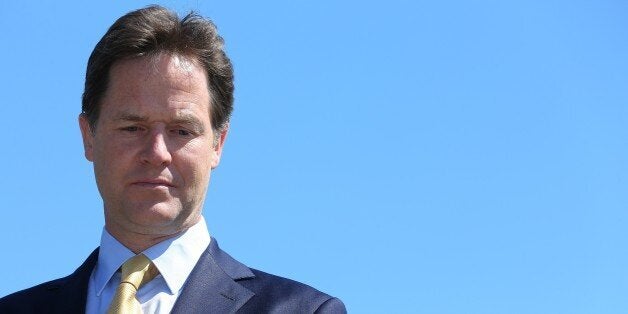 "Somebody had to have the backbone to stand up against Ukip," Lib Dem president Tim Farron said on Sunday evening as the European election results flooded in. But the party's gamble of positioning itself as the unambiguously pro-European Union party appears to have resulted in it having its back broken by voters.
The Lib Dems were almost entirely wiped out in the European parliament last night, losing all but one of their 11 MEPs, while Nigel Farage's eurosceptic Ukip surged to victory. After the votes were counted the only Lib Dem MEP who managed to keep her seat was Catherine Bearder in the South East of England.
The result will add to the pressure on Nick Clegg in the wake of the party's dismal local elections results, given his decision to personally take-on Farage. The deputy prime minister took a chance by taking on Farage in head-to-head debates ahead of the elections and highlighted his support for the Brussels project by casting the Lib Dems as the "party of in".
It is unlikely the deputy prime minister will be ousted before the 2015 general election, but the loss of 250 councillors at the end of last week led to calls for him to quit.
Southport MP John Pugh suggested that a dozen of his Commons colleagues had expressed doubts over whether Clegg should continue at the head of the party. Ex-MP Sandra Gidley - one of around 250 people to have signed an online letter demanding a change of leader - said Clegg was tainted by his position in the Tory-led coalition.
Farron, one of the most likely successors to Clegg alongside Vince Cable, said the deputy prime minister should not face a leadership challenge despite a "staggeringly disappointing" European election result.
The Lib Dems had "paid the price" for the decision to fight a strongly pro-European campaign, he said, but he told Sky News that Clegg should be praised for having the backbone to take an unpopular position over the EU and confront Ukip's "threat to British cultural values".
The party president said "somebody had to have the backbone to stand up against Ukip" and added "Nick Clegg did so and I'm dead proud of him".
Lib Dem Federal executive member Martin Tod told the BBC in the early hours of Monday morning: "There's a real issue with our leadership … there's got to be really major change"