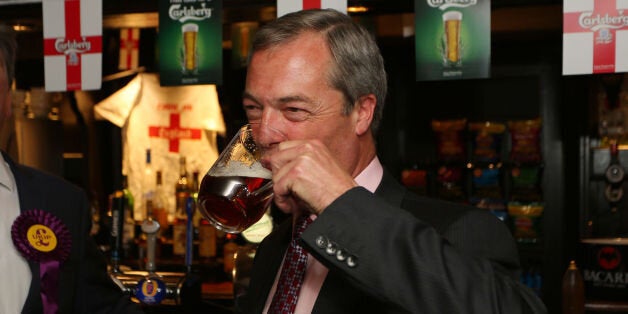 David Cameron has dismissed the idea that Nigel Farage is the leader of an anti-establishment movement in Britain, describing the Ukip leader as a "consummate politician" obsessed with tactics.
On Sunday evening Ukip topped the polls in the European elections as it had been widely expected to do. Labour came in second with the Conservatives third. The Liberal Democrats dropped to fifth place behind the Greens and lost all but one of their MEPs.
The prime minister told BBC Radio 4's Today programme on Monday that he would not be forming any electoral deal with Ukip in 2015 in order to unite the centre-right vote as Farage wanted to "destroy" the Conservative Party.
"Conservative candidates will stand as Conservatives, fight as Conservatives and, I hope, win as Conservatives. We are not going to be doing deals and pacts," he said.
Asked why he would not give a straight answer to who he would prefer a coalition with, Ukip or the Lib Dems, Cameron attacked the suggestion Farage would have offered a more direct reply.
"I don't actually happen to agree with that," he said. "Listening to him on the radio and television for the last few days, it all seems supremely tactical. It's about trying to grow votes in clusters or something in different parts of the country.
"I don't really accept this thing. He's a consummate politician, we've seen that with his expenses and his wife on the payroll and everything else. So I don't really accept the 'he's a normal bloke down the pub' thing."
Ukip delivered its long promised "earthquake" to Westminster on Sunday evening. And a post-mortem is underway within the three other main parties in an attempt to understand what future threat Farage poses.
Farage said: "My dream has become a reality. The British people have stood firm, they have backed Ukip and we have won a national election. Everyone keeps saying it's the high tide mark for Ukip. I think the party has got real momentum behind it."
The Ukip leader, who was returned as an MEP for the South East of England, said he would use the European result as a springboard for the general election. "The plan is to get a good number of Ukip MPs elected next year," he said.
Ed Miliband insisted that Labour was "in a position where we can win the general election", despite disappointing results which saw the party perform strongly in London but barely scrape into second place nationally, less than a single percentage point ahead of Tories.
Nick Clegg lost all but one of his 11 MEPs on a disastrous night for the party, prompting calls from senior activists for him to be removed as leader.