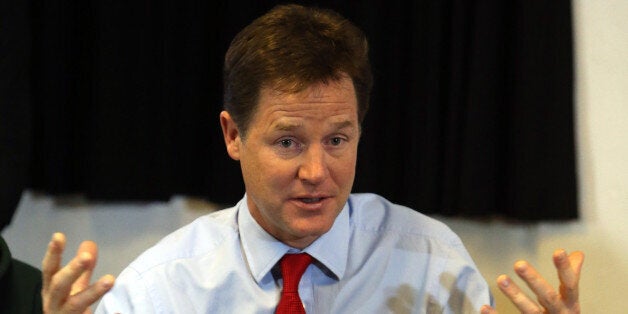 Nick Clegg has said "appropriate steps" will be taken against Liberal Democrat peer Lord Oakeshott for plotting to oust him as leader of the party.
The deputy prime minister said it was "unacceptable" for Oakeshott, an ally of Vince Cable, to have sought to destabilise his leadership in the wake of poor local and European election results by commissioning a poll on the party's general election chances and then leaking it to the press.
On Tuesday, The Guardian published the results of a survey conducted by ICM which suggested Clegg was on track to lose his seat at next year's general election. The poll, conducted prior to last week's elections, was made public at the same time as Clegg was facing calls from some within his party to quit.
Speaking on Wednesday morning, Clegg said: "I think it is wholly unacceptable for people in a campaigning political party, facing very, very difficult elections last week, as we were, to find out now with hindsight a senior member of the party, far from going out and trying to win votes, was spending money and time seeking to undermine the fortunes of the party.
"Obviously parliament will resume next week. A lot of these things will be taken up then and discussed, in the House of Lords and the House of Commons, and following those discussions appropriate steps will no doubt be taken."
Clegg's comments suggest Oakeshott, a longtime critic of the deputy prime minister, could be thrown out of the party.
The Lib Dem leader also said the ICM poll had also been "confounded by the actual election results" which showed an increase in support for the party in Sheffield. "I don't need some partial poll to tell me how people actually voted in my constituency," he said.
Cable has moved to distance himself from Oakeshott. In a strongly worded statement, the business secretary said his friend's actions had been "totally inexcusable and unacceptable".
"I have made it very clear repeatedly that he does not speak or act for me," he said. "Commissioning and publishing polls without the consent of the Member of Parliament, as in the case of Sheffield Hallam, is utterly reprehensible."
"There are undoubtedly raw feelings in the wake of poor local and European election results. We need to respond in a measured way. Public speculation about the leadership is an unwelcome distraction and as I made absolutely clear yesterday there is no leadership issue as far as I'm concerned."
Related