Wayne Rooney and Tom Cleverley have more in common than the mere status of Premier League champion. Neither has played consistently well for their club since the beginning of the 2011-12 season, and although Cleverley will not be travelling to Brazil next month, there is a growing clamour for Rooney not to be included in Roy Hodgson's starting XI against Italy.
Rooney played his first match in over a month against Peru on Friday night. Slow, rusty and weary, it was not a surprise to see him huff and puff his way through an hour before he was inevitably withdrawn. Rooney, as England discovered to their detriment at the last two World Cups, is not a natural athlete and is not wont to recovering quickly. He has, at least, endeavoured to regain full fitness ahead of a major tournament this time, posting videos of his rigorous recovery on Facebook, as opposed to his pre-Euro 2012 trip to Las Vegas when he was photographed puffing on a cigarette.
Back then, he was indispensable to Hodgson. Now, he isn't. The trouble with Rooney is everyone has run out of excuses for him. Injuries, preparation, athleticism, whatever, they have all been exhausted and it is becoming difficult to justify his inclusion in this England side. He is his country's most naturally gifted player, yet the best players do not necessarily make for the best team.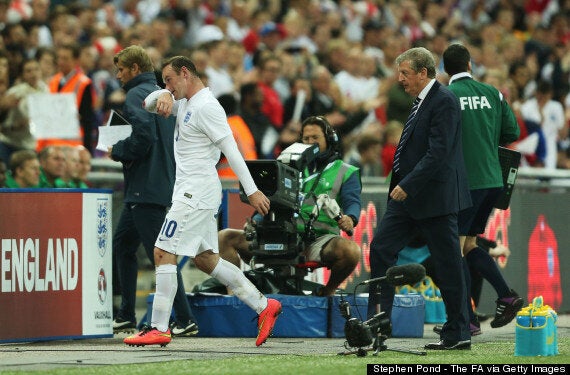 Rooney experienced a predictably plodding return to competitive football on Friday night
Hodgson is unlikely to make such a drastic decision as dropping Rooney a fortnight before the opener in Manaus. Rooney contributed seven goals in qualifying, albeit against minnows and underwhelming opponents, is still regarded as the team's talisman and is one of five England players in the squad to have played at a World Cup.
Yet he is a problem for club and now his country. Paul Scholes echoed many sceptics when he opined "if form doesn't get up to scratch in the warm-ups, or in the first game of the World Cup, it'll be interesting to see if the England management team has the balls" to drop Rooney. Scholes exaggerated when he added England "have quality forwards in the squad this time", however Rooney is not the "big man" he proclaimed he was back in Germany 2006.
Daniel Sturridge's dynamism and form for Liverpool is worthy of recognition at international level, and he will deservedly start at the finals. The trouble is he is partnered by a player who has a habit of taking exception to being subordinated and is not as mobile or good as Luis Suárez.
Rooney was in need of a run-out at Wembley, yet Hodgson should consider fielding Danny Welbeck in his favoured central role off Sturridge against Ecuador or Honduras next week in Miami. The pair enjoy a good rapport, played alongside each other at Under-21 level, boast decent international goalscoring records, and, crucially, are capable of maintaining a high tempo. With Raheem Sterling and/or Alex Oxlade-Chamberlain in the side, England would boast a raw fearlessness.
Welbeck's inclusion against Peru generated plenty of predictable criticism from the Twitteratti, and in his role as a winger he looked disinterested until he was moved into his favoured central role and proved to be an effective link between the midfield and attack. He may not be a better footballer than Rooney but he offers greater penetration in the final third, even though his finishing is unreliable.
It would not be the first time Welbeck has ousted Rooney. The Longsight lad's performance at the Bernabéu last year demoted Rooney to the bench for Manchester United's Champions League return leg with Real Madrid, as Sir Alex Ferguson continued to marginalise Rooney.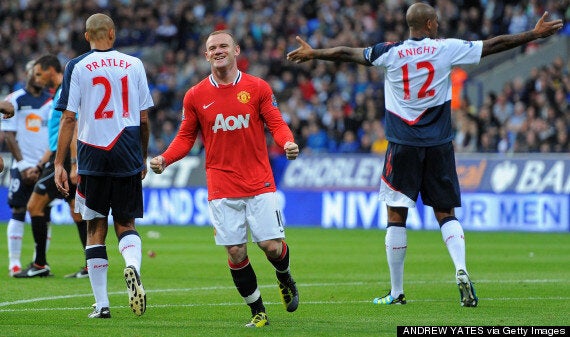 Rooney's last great run of form included back-to-back hat-tricks against Arsenal and Bolton
Ferguson had already signed Robin van Persie and Shinji Kagawa to herald Rooney's protracted departure from Old Trafford. He had grown tired of crowbarring him into the team and could no longer countenance Rooney's slow recovery from injuries, having previously described him as "stocky". Dropped for Ferguson's last two matches in charge, all David Moyes had to do was dot the 'i's and cross the 't's on Rooney's contract termination.
Other than Paris Saint-Germain, Moyes and United's executive vice-chairman Ed Woodward were the only men in the world prepared to pay Rooney £300,000. He still fronts the Nike commercials and is England's de facto poster boy, but money and commercials cannot hide the reality Rooney has slackened.
It is especially galling for Rooney that his best performance in the past two years for club and country was when he emerged as a substitute for United in an unfortunate defeat to Tottenham. Trailing Spurs 2-0 at half-time, Ferguson introduced Rooney, who, in tandem with Paul Scholes, dictated the game from deep as United were narrowly beaten 3-2.
That half, Van Persie was supported by Kagawa and Nani, as the latter two scored and Van Persie missed a presentable chance to equalise, while Rooney and Michael Carrick hit the woodwork. The fluid 4-2-1-2-1 formation, while narrow, benefitted Rooney in an impact role, only it is a role he expects Ross Barkley to vacate in Brazil, rather than himself.
He might have to grow used to it under Louis van Gaal. Van Persie said "I walk on fire for Van Gaal if I have to" and could even be made United captain, a role Rooney seemed destined to inherit when he signed a new contract in February. Similarly, should Steven Gerrard retire from international football after the World Cup, he might be denied the opportunity to don the international armband.