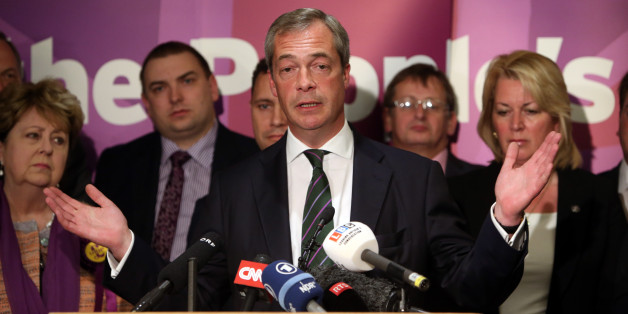 Steve Parsons/PA Wire
Ukip came first in Newark in May's European election, securing an impressive 32% of the vote. But the party's Roger Helmer failed to capitalise on that result in yesterday's by-election, finishing second with 26% of the vote, 7,403 votes behind the Tory candidate Robert Jenrick who won 45%. If Nigel Farage's "people's army" is on the march, a lot of it appears to have got lost trying to find its way back to Nottinghamshire.
Now it was unlikely that Ukip would have been able to snatch the parliamentary seat given the 16,000 Tory majority. And Farage will reasonably claim the result still represents an impressive showing for his party in a constituency which is not even close to being a Ukip target in the 2015 general election.
The comparison is also not strictly like-for-like, as the Newark and Sherwood constituency for European elections has different boundaries than the Newark parliamentary seat.
SEE ALSO:

Newark Says No To Nigel: Relief For Cameron As Tories Win By-Election

Not A Single Lib Dem MP Even Bothered To Campaign In Newark: Candidate

Tory Minister Rolling His Eyes At Ukip's Diane James At 3am Was The Best
However Ukip's inability to win a by-election triggered by the resignation of a Tory MP engulfed in scandal, not to mention the party's stunning local and European election success still fresh in voters minds, could demonstrate the limits of its electoral appeal.
Ukip will pour all of their resources into target seats, many of them in in Essex and Kent, where it feels it has the best chance of getting its first MPs elected. But unlike the proportional representation system in the Euros that handed it 24 MEPs, Westminster's first-past-the-post rules could see Ukip pick up a lot of votes but no seats.
Farage himself made great play of how his party was finishing a strong second across the country. But second place is no good. In fact the Lib Dems, with a targeted campaign, could quite easily finish behind Ukip on national vote share but still hold on to 30-40 MPs while Ukip return none.