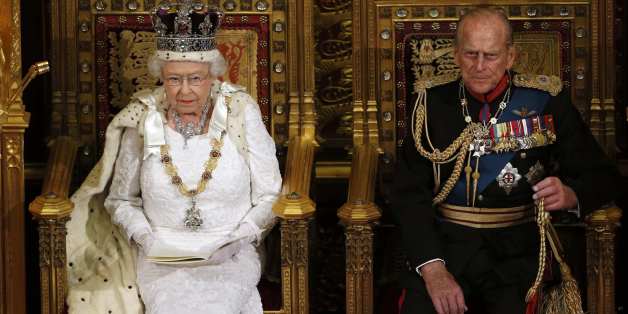 SUZANNE PLUNKETT/WPA Rota
The Queen's Speech, which listed what the coalition will do for its final year before the general election, will not help for working Britons, trade unions have warned.
Frances O'Grady, general secretary of the Trade Union Congress, said: "This is not a Queen's Speech for people at work.
"It is missing anything that will allow them to share in the recovery with a proper wage increase. It has nothing to ensure properly funded public services, particularly the NHS. And there is nothing to rebalance the economy to ensure we create good jobs and a sustainable future.
"Of course there are some measures that we welcome and some that we oppose, but this is an underwhelming programme that misses the main challenges that this country faces."
See also:
However business groups have been more positive about the Queen's list of legislative programmes, which include moves to crack down on controversial zero-hour contracts and slash red tape for small firms.
Simon Walker, director general of the Institute of Directors, praised the speech, made to mark the State Opening of Parliament, as "one of growth, innovation and help for people who want to start and grow a business".
However, Walker lamented the lack of measures to simplify the tax system, adding: "This would have been an ideal component of the final year of this Parliament and would have prompted debate in the run up to the party manifestos and the General Election itself."
Others welcomed the Small Business Bill, which will require banks to refer businesses turned down for credit to alternative finance providers. The bill also features measures to speed up payments to businesses from suppliers and help to win public sector contracts.
Phil Orford, chief executive of the Forum of Private Business, said that the Queen's Speech had "nothing overly ambitious for businesses" but welcomed "a number of smaller measures that could support enterprise".
He added: "We need to await the real detail of the Bills clause by clause and will see what opportunities there are to push for even more pro business reforms."
Small business owner Sharon Sandman, of Grow Great Britain, told the Huffington Post UK that she was "delighted" by what the Queen's Speech included.
"It's really frustrating to to think my business could have been stalled or, in worst-case scenario, prevented from reaching its potential due to the inability to secure a small amount of finance," she added.
"I am a huge supporter of alternative lending programmes. At the same time, I'd love to be introduced to and support a traditional bank once they are able to prove their commitment to helping new and expanding small businesses."
Anil Stocker, CEO of alternative finance provider MarketInvoice, said: "Many businesses can't access or don't want the products offered by banks. That's a problem because awareness of alternative providers offering more suitable and affordable finance is low, and as a result their prospects for growth are limited."
John Allan, national chairman of the Federation of Small Businesses, concluded: "This landmark Bill will therefore be welcomed by our members."