A Ryanair jet has rolled 40 meters off an airport tarmac and crashed into a fire shed in Rome.
The tail of the Boeing 737 was crushed by the impact, causing an estimated £162,000 of damage, Italy's Blitz newspaper reports.
Thankfully no one was hurt in the incident at Ciampino Airport and all passengers had disembarked the jet before the incident on Wednesday.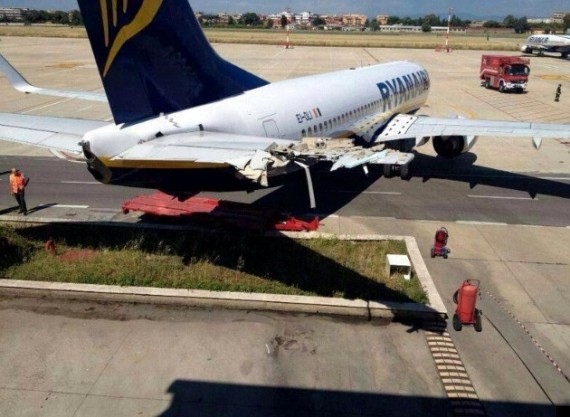 The Ryanair 737 rolled off the runway at Rome's Ciampino Airport
One witness told MailOnline Travel: "It was surreal to watch. This big heavy jet just started to roll backwards gathering speed until it crashed into the garage of the airport fire station.
"The whole thing only lasted a matter of seconds but the noise as it smashed into the building was terrific. It was grinding metal and the damage was quite severe."
A spokesman for Ryanair told Huffington Post UK: "Ryanair has asked the ground handling agent (Groundcare) to investigate why it failed to properly secure a Ryanair aircraft at Rome Ciampino Airport yesterday (04 June).
SEE ALSO:
"The parked and unoccupied aircraft rolled back and made contact with a remote building damaging its rear stabiliser. This is currently being replaced and the aircraft will shortly return to service."
It comes as the airline reported its first profits fall in five years.
Post-tax profits were 8% lower at 523 million euro (£426.5 million) in the year to March 31 after a price war left average fares 4% lower at a time of rising fuel costs.
Chief executive Michael O'Leary described the performance as disappointing but said efforts since September to reinvent Ryanair's image and reputation helped passenger traffic rise 4% in the second half of the year.