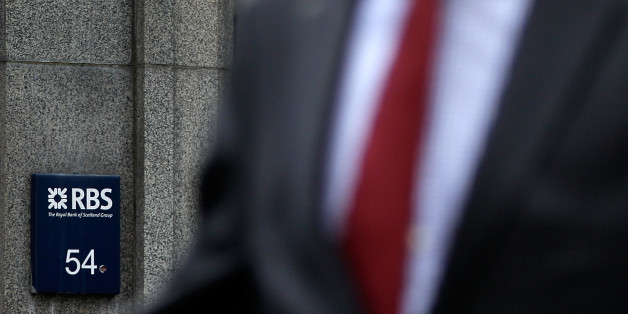 Matthew Lloyd via Getty Images
Senior Royal Bank of Scotland executives insisted to MPs that they do good overall as they defended the state-owned bank from accusations that it drove small businesses under in order to make a profit.
Derek Sach, head of the RBS global restructuring group (GRG), which helps manage firms struggling with their debts, insisted that the turnaround unit was "absolutely not a profit centre" nor rough with its customers.
"Generally [I] do believe we do good overall," he told MPs on the Treasury select committee. Sach insisted that the bank "would never get any advantage from destroying a customer", pointing out that GRG had lost £2.1 billion over a five-year period.
"There can't be all this smoke without some fire," said Andrew Tyrie, committee chairman, adding: "There have been widespread concerns about RBS's lending practices."
Treasury committee member Jesse Norman tweeted that the bank executives' defence was "not persuasive".
Chris Sullivan/Derek Sach of #RBS now flatly repudiating Sir Andrew Large's key claim that #GRG was run as a profit centre. Not persuasive.

— Jesse Norman (@Jesse_Norman) June 17, 2014
RBS was being grilled after a report by entrepreneur Lawrence Tomlinson accused the bank of "killing off" small firms managed through its GRG business turnaround unit by adding on fees or pulling lines of credit. Another report by former Bank of England deputy Sir Andrew Large found that the GRG unit was being run to make profit.
Sach, appearing alongside RBS deputy chief executive Chris Sullivan, told MPs that Tomlinson's accusations had unsettled GRG staff, who felt they had "impugned their integrity".
In response, Tomlinson told the Huffington Post UK that he found some of RBS' evidence to MPs "particularly surprising".
"There was, I felt, a palpable scepticism on behalf of the committee to some of Mr Sach and Mr Sullivan's answers," he said.
"Certainly, the committee shared my concerns about fees which Clifford Chance also found to lack any transparency. The committee even went so far as to suggest that an opaque fee was inherently an unfair fee. Similarly, the issues surrounding internal valuations, and the means by which the bank leverages its position, were equally probed by the committee."
"All these factors impact on the operability of businesses once they are in GRG, potentially causing cash flow problems in the business in an unaccountable manner. Going forward, I hope they are rectified to ensure fair treatment for all customers, whether in the main bank or in the turnaround division."
Following Tomlinson's allegations, the bank commissioned lawyers from Clifford Chance to investigate the claims and later welcomed the report for claiming it of trying to "systematically defraud" small firms, something that Tomlinson had never claimed.
Clifford Chance's report, which interviewed 138 small businesses managed by the bank's support unit, found that the bank's fees "lacked clarity" in "some cases". RBS is still under investigation by the City watchdog, the Financial Conduct Authority.
In response to Clifford Chance's report, RBS admitted that the process which allowed the bank to bid for ailing businesses' property that it was auctioning off in order to help get on top of their debts led to a "damaging perception" of a conflict of interest. As a result, the bank decided to wind down West Register, the vehicle through which it would bid on property, and sell all of the assets it has on its books.
In response to RBS' evidence today, Treasury committee chair Andrew Tyrie said he would write to Sir Andrew Large as the bankers had "flatly contradicted an important conclusion, and concern, of [his] report".