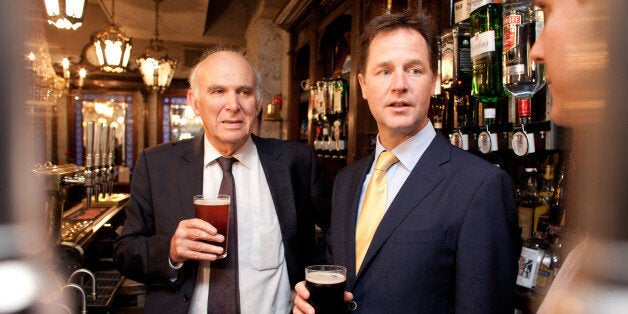 Vince Cable has insisted the Lib Dems are not about to bounced into backing David Cameron's pledge to hold an in/out referendum on Britain's membership of the European Union, amid rumours Nick Clegg is under pressure to change his party's position.
The business secretary told reporters after a speech at Bloomberg in central London on Wednesday afternoon that despite reports in today's newspapers "nothing has changed". He said: "Our policy hasn't changed. I'm not sure where people got the idea that it had changed."
The Times and Daily Mail today suggested Clegg was under pressure to match the Tory commitment to a referendum in the wake of the electoral mauling the Lib Dems received in last month's European Parliament contests, which left the party with a single MEP.
Tory former minister Bob Neill will launch a fresh attempt to get a referendum bill through parliament after legislation proposed by colleague James Wharton collapsed in January in the face of Labour and Liberal Democrat opposition in the Lords.
The prime minister has said he is ready to invoke the Parliament Act to force through referendum legislation but for that to apply, a bill identical to that proposed by Wharton would have to pass the Commons without any amendments - which may prove difficult to achieve. The Lib Dems and Labour abstained in the Commons on Wharton's bill, leaving their peers to block its progress.
David Cameron urged fellow European leaders to stand up for reform in the EU today by rejecting the candidacy of Jean-Claude Juncker as president of the European Commission.
Related