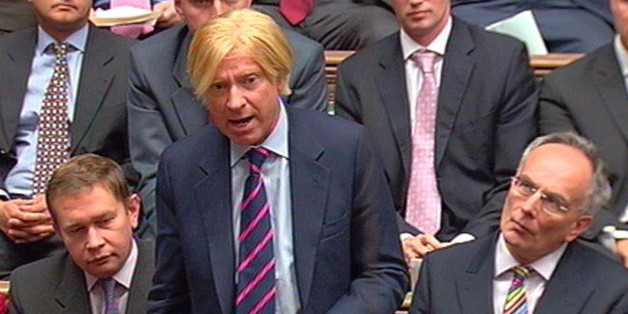 PA/PA Archive
Tory MP Michael Fabricant has faced a furious backlash after he boasted he would like to punch a prominent female Muslim "in the throat".
The spat, which took place on Twitter for whole world to see, came after Alibhai-Brown went head-to-head on Channel 4 News with author Rod Liddle.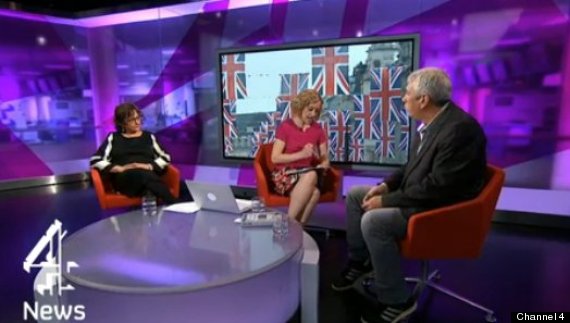 The row started on Channel 4 as Liddle promoted his new book
READ MORE:

Yasmin Alibhai-Brown Calls For David Cameron To Take Action Against Michael Fabricant After 'Punch' Tweet
WATCH THE CHANNEL 4 CLASH HERE
Fabricant, who has his profile picture on Twitter as ice skater Jimmy MacElroy from Blades Of Glory, then chipped in:
I could never appear on a discussion prog with @y_alibhai I would either end up with a brain haemorrhage or by punching her in the throat

— Michael Fabricant (@Mike_Fabricant) June 20, 2014
What then played out was a textbook example of how to give a really crappy apology:
First, Fabricant took to Twitter to issue a bizarre pseudo-apology by saying he was "just out of dentist" and would never threaten violence against anyone.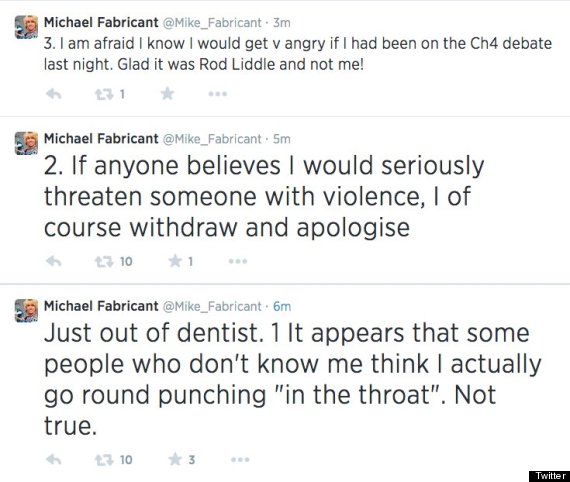 Then he tweeted Alibhai-Brown directly, including some cringe-inducing kisses:
.Sorry @y_alibhai if you actually thought I would punch you. I actually don't do that sort of thing. But you are utterly infuriating! xx

— Michael Fabricant (@Mike_Fabricant) June 20, 2014
Then he apologised again...
So just for the avoidance of any doubt: I am v sorry for tweet. It was wrong to joke abt punching + I completely withdraw and apologise.

— Michael Fabricant (@Mike_Fabricant) June 20, 2014
The he made sure to mention his trip to the dentist again, and that as a result he would not be taking calls from the media:
Just been to dentist, jaw numb, so doing no meejah!

— Michael Fabricant (@Mike_Fabricant) June 20, 2014
Then he tweeted this:
And here's me in a demo in Lichfield end last yr against domestic violence. "Real men don't hit women". It's true! pic.twitter.com/tm0BLdL6NG

— Michael Fabricant (@Mike_Fabricant) June 20, 2014
Somewhat unsurprisingly, Alibhai-Brown appeared to reject the MP's series of apologies:
@Mike_Fabricant@GuidoFawkes It was not a joke but a violent urge, unacceptable from an MP. DO YOU NOT GET THAT? Feeling that urge again?

— Yasmin alibhai-brown (@y_alibhai) June 20, 2014
Many on Twitter reacted with outrage to the MP's comments, particularly as he also retweeted someone who called for Alibhai-Brown to be deported.
@Mike_Fabricant@jameskirkup why did you retweet someone saying Y A-B should be deported?

— Labour Press Team (@labourpress) June 20, 2014
Many commented on the MP's lengthy and convoluted apology:
@Mike_Fabricant LOL LOL IT WAS A JOKE LOL IM AN ELECTED REPRESENTATIVE AND I JOKE ABOUT PUNCHING WOMEN IN THE THROAT MEGABANTZ LOL.

— Dutton Peabody (@MrDuttonPeabody) June 20, 2014
@Mike_Fabricant@y_alibhai Er, Mike, isn't there something about holes and digging? "xx"

— Joe Murphy (@JoeMurphyLondon) June 20, 2014
That is not an apology @Mike_Fabricant Your threat to @y_alibhai was vile and you should resign from your position.

— Joanne Ella Parsons (@Joparsons) June 20, 2014
Oh excellent. @Mike_Fabricant is going the "explain at length" route. I predict apologies for any offence... :-)

— Duncan Hothersall (@dhothersall) June 20, 2014
Oh the 'only joking' defence eh @mike_fabricant? Save time you waste on apologising and explaining by not being a prick in the first place.

— Chopped Liver (@MrNMJackson) June 20, 2014
@EveThomas40@Nadalena@Mike_Fabricant The normalisation of "laughing it off" is much more pervasive and dangerous.

— Tony Hughes (@TheProtestBoard) June 20, 2014
@Mike_Fabricant That's not an apology you clown.

— Andy Walton (@waltonandy) June 20, 2014
@Mike_Fabricant@cathynewman That statement makes no sense. You are apologising because people might believe it?

— Shaun (@Ah_Shaun_No) June 20, 2014
@Mike_Fabricant@cathynewman ah --- the old 't'was only a joke' defence - you are in a position of authority YOU should have known better!

— Chris John Ball (@cjball_london) June 20, 2014
@mike_fabricant@y_alibhai Stop saying 'BUT'. You have no excuse for such behaviour. You need to apologize with no qualifications.

— JamieJones77 (@JamieJones77) June 20, 2014
The comments by the MP for Lichfield and self-titled "cool guy" sit in stark contrast to those of his leader, David Cameron, who expressed his concern about violence for women on this website.
"Violence against women is an iceberg under the surface of society. Every day millions around the world live in fear," he wrote on The Huffington Post.

"It is despicable that in the 21st century so many medieval practices and attitudes remain.

"And it is appalling that time and again, this is shoved under the carpet. People turn a blind eye and a culture of shame and secrecy is perpetuated.

"That's why ending violence against women and girls is a priority for this government. We are challenging the behind-closed-doors mentality and shining a light under the rocks to root out violence and intimidation where it's happening - at home and abroad."

You can read the full blog here.