Campaigners have tried to occupy the grounds of Westminster Abbey in protest against the Government's decision to axe a fund for the disabled.
The move, reminsicent of the long protest occupation at St Paul's Cathedral in 2011, saw at least ten police vans were part of a heavy police presence, with officers at times three rows deep to deal with around 100 protesters.
The Guardian reported the protestors had planned to occupy the space until July 22 but the police presence caused the number of protestors to dwindle to around 50.
The group had sent a letter to Archbishop of Canterbury Justin Welby, urging the Church of England not to forcibly remove them, The Guardian reported.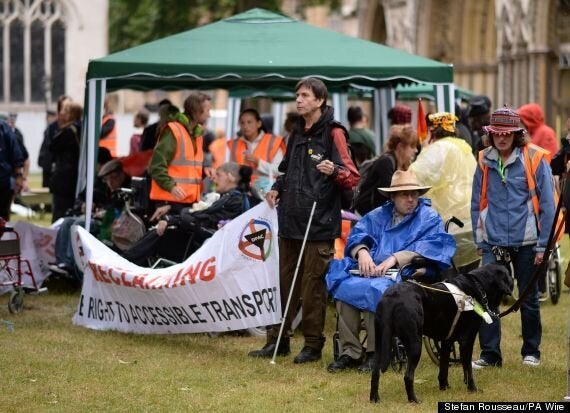 Around 100 protestors took part in the protest but the number dwindled in the face of a large police presence
Tents were erected on the grass and draped with banners against the planned closure of the Independent Living Fund (ILF) for severely disabled people.
Protesters claimed their attempts to negotiate their presence on the Abbey's grounds with the Dean of Westminster, Dr
John Hall, had been rejected and they had been advised by police to leave the grounds or face arrest.
Many moved on but a group of disabled protesters, many in wheelchairs, stayed on to continue the protest.
Sophie Partridge, a disabled actress and writer from Islington in north London, said she was there because she depends on the ILF to employ carers and live in the community.
"We are here to say we are not giving up, we are not going away and that it is our right to live independently," she said.
"If people come here today and go away knowing about the fund we'll have achieved something because most people support us.
"I was a performing artist at the Paralympic opening ceremony and it was a wonderful night, but two years on where are we? What happened to that legacy?
"This is the reality - disabled people such as myself are having our livelihoods taken away."
The £320 million central government fund provides support to around 18,000 disabled people.
From June next year funding will be devolved to local authorities, but protesters claimed that cash-strapped councils would not be able to guarantee the same level of care.
Scuffles broke out a couple of times throughout the afternoon and Scotland Yard said one person had been arrested.
Campaigners from the Disabled People Against the Cuts (DPAC) protest group said they were planning to stay outside the Abbey until July 22, when Parliament's summer recess is due to start.
Tourists and passers-by looked on with a mixture of curiosity about the protest and surprise at the number of police involved.
Earlier, UK Uncut said that hundreds had joined demonstrations outside Boots shops in central London, Liverpool, Manchester, Northampton, Ashford and Penarth to protest against claims that the company has dodged £1.2 billion in tax.
Jo Hill, UK Uncut's spokesman, said: "Boots get 40% of their revenue from contracts with the NHS, funded by taxpayers, yet they think it's acceptable to not pay taxes themselves.
"The tax dodged by Boots could pay for the starting salary of more than 78,000 NHS nurses for a year - that's roughly 120 additional nurses per parliamentary constituency.
"The Government should stop tax avoidance and stop cutting our vital public services."
But the company said that claims that it had avoided paying more than £1 billion in tax were "simply not true".
A spokeswoman for Alliance Boots said: "This is based on the assumption that any company carrying corporate debt is practising tax avoidance.
"All companies, large or small, that carry debt are afforded tax deductibility of their debt interest in the UK.
"If we look at the real numbers, our corporation tax increased by 40% last year compared to the previous year - from £64 million in 2012/13 up to £90 million in 2013/14.
"Looking after many millions of customers for their health and beauty needs, we invest significant amounts in the UK, around £1.2 billion since 2006, to further develop our stores and services so we can serve people in the best possible manner."