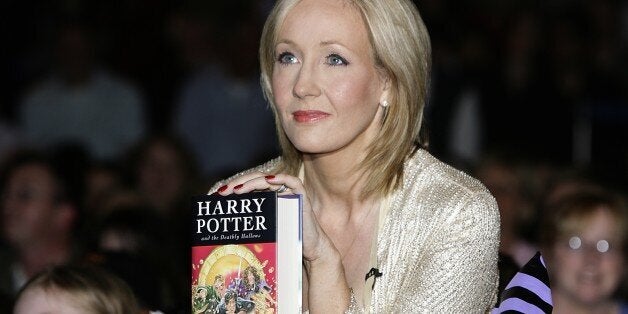 British spies could have been behind the abusive messages sent to JK Rowling after she spoke out against Scottish independence, a leading SNP politician has apparently claimed.
According to reports, Christina McKelvie MSP thinks the Twitter smear campaign aimed at the Harry Potter author could have been the work of "secret service plants".
Ms McKelvie discussed MI5 involvement while saying there was no link between the vicious messages and the campaign fighting for Scottish independence, The Telegraph reported.
The millionaire author, who lives in Edinburgh, said an independent Scotland would not have an easy ride from England, Wales and Northern Ireland who would become three "bitter neighbours".
But Ms Rowling was branded a "traitor", "whore" and "specky b******" by online trolls support for the Union.
An investigation was launched into an Edinburgh-based charity after it apparently sent out a tweet saying: "What a #bitch after we gave her shelter in our city when she was a single mum."
Police Scotland have reportedly examined an allegation of "online criminality" against the author.
"The attacks on JK Rowling for her donation to Better Together were, in fact, down to a very few people whose accounts no one could trace back to having anything to do with the Yes campaign," said Ms McKelvie.
"Whoever made them – there are interesting conspiracy theorists who think it might all have been down to secret service plants – should be totally condemned. I have no time for this kind of small-minded viciousness."
He claimed it was "naïve" to think that the security forces were not involved in seeking to influence the outcome of September's ballot which could see the break-up of the UK.
"Are you so naive, that you never think that perhaps MI5 and special branch are taking a role in this campaign? As their function is protection of the British State, they would not be doing their jobs if they were not," he queried.
A Number 10 source dismissed Ms McKelvie's claims as "preposterous and extraordinary" while Michael McMahon, a Labour MSP, said the remark "would be laughable if it wasn't so serious".
Writing on her website, Rowling said that, while she is "no fan of the current Westminster Government", she has concerns about the economic risks of independence.
"My hesitance at embracing independence has nothing to do with lack of belief in Scotland's remarkable people or its achievements," she wrote.
"The simple truth is that Scotland is subject to the same 21st century pressures as the rest of the world. It must compete in the same global markets, defend itself from the same threats and navigate what still feels like a fragile economic recovery.
"The more I listen to the Yes campaign, the more I worry about its minimisation and even denial of risks."
She continued: "The more I have read from a variety of independent and unbiased sources, the more I have come to the conclusion that, while independence might give us opportunities - any change brings opportunities - it also carries serious risks."
Referring to her donation to Better Together, she wrote: "I wanted to write this because I always prefer to explain in my own words why I am supporting a cause and it will be made public shortly that I've made a substantial donation to the Better Together campaign, which advocates keeping Scotland part of the United Kingdom."
She added: "If we leave, though, there will be no going back. This separation will not be quick and clean: it will take microsurgery to disentangle three centuries of close interdependence, after which we will have to deal with three bitter neighbours.
"I doubt that an independent Scotland will be able to bank on its ex-partners' fond memories of the old relationship once we've left. The rest of the UK will have had no say in the biggest change to the Union in centuries, but will suffer the economic consequences."