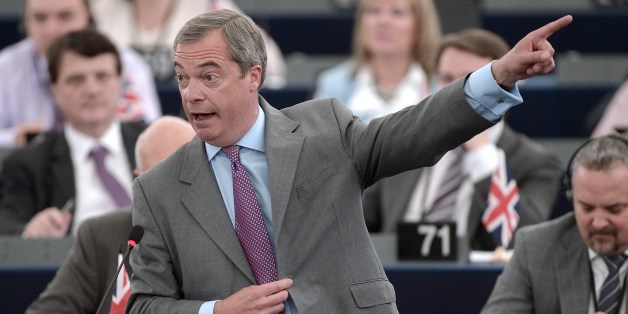 FREDERICK FLORIN via Getty Images
Nigel Farage has suggested MPs should see their pay rise by over £30,000 a year to £100,000 and indicated he will soon announce which Commons constituency he will contest in the 2015 general election.
A recent suggestion by the independent body that sets MPs pay that parliamentarians deserve a salary bump caused uproar and was condemned by David Cameron, Ed Miliband and Nick Clegg. MPs currently earn £67,060.
But the Ukip leader told LBC radio that if Britain was outside the EU then MPs would deserve a pay rise of up to 50%.
"Given that 75% of our laws are now made in Brussels and actually apart from the weekly theatre of Prime Minister's questions... I see no argument for increasing MPs' pay at the moment because they haven't got the responsibility."
Asked how much MPs should earn if Britain did pull out of the EU, he said: "Why don't we say that if we paid MPs the same as the local headmaster of the local comprehensive that would be about right.
"It would be £90,000 to £100,000 - only if they've got back the independence of this country and we actually debate on the floor of the House of Commons legislation that affects this country and vote on it."
Farage added he was only in favour of a pay rise for MPs if "they've got back the independence of this country and we actually debate on the floor of the House of Commons legislation that affects this country and vote on it".
The Ukip leader, who was re-elected as an MEP in May's European elections, has kept voters guessing as to from where he will seek election to the Westminster parliament. It has been widely rumoured that he will try and win the Thanet South seat in Kent. He told LBC: "I will announce, within a couple of weeks of that, where I'm going to stand."
Tim Farron, the president of the Lib Dems, said Farage was "100% wrong" to suggest MPs should be paid £100,000.
SEE ALSO:
Farage dismissed claims that he had abandoned the prospect of standing for election in Thanet South because the Tories have selected as their candidate a one-time Ukip candidate, dismissing him as a "nice chap" who "comes second at everything".
He said the constituency - where Tory Laura Sandys is stepping down at the election - remained "on my top two or three" options and that he would announce his final decision "within a couple of weeks" of the start of the European Parliament summer break on July 24.
"I'm not interested in who stands for the Conservative party or for the Labour party," he said.
"Thanet South is a three-way marginal. The last raw data we had from opinion polls put the three parties within 2% of each other. Ukip will fight Thanet South to win Thanet South."
It was "more than likely" he would pick a seat in Kent, he said.
Asked if Tory candidate and former Ukip colleague Craig Mackinlay was a good politician, he replied: "No. He's a very nice chap.
"Here he is, 20 years into a political career, having never been elected to anything, you know. Poor old Craig comes second at everything."
On GPs' pay, he told a caller: "I think we have to cap it."
"I speak as somebody who was misdiagnosed for six weeks with a malignant tumour and kept going back every Monday to be told, you know, take the tablets and go away. So there's good and bad as there are in all walks of life.
"I'm not saying we shouldn't pay GPs well but what I am saying is they got the most massive pay increase under Blair and those that have turned their local surgeries effectively into their own private fiefdom and businesses, are taking too much money out of this system.
"I don't mind GPs earning £100,000 a year... But I have got a problem with those that are earning multiples of that."
Mr Farage said the party would have a comprehensive election manifesto ready by the time of its annual conference in September and that it would include a pledge to introduce Australian-style points-based immigration controls.
"They say, 'to come to Australia you must be under 45 years of age, you must have a skill or a trade that will bring a benefit to our country'. They say, 'if you have a life-threatening disease, I'm sorry but we can't accommodate you'.
"They say, 'if you have a serious criminal record we won't have you,' which if you think about it is quite funny really, isn't it? Given their background.
"John Howard (former Australian prime minister) said, 'we don't care whether you're black or white or yellow or what your religion is, but if you come to our country and you come here to take citizenship you become part of us and you become part of our Australian dream,' namely the integrationist message.
"That is exactly what we should be doing."
On the licence fee, he said: "I think there is a very strong argument for reducing it massively," he said.
"There is no reason why the BBC should be bidding large amounts of money to cover football matches or tennis matches."