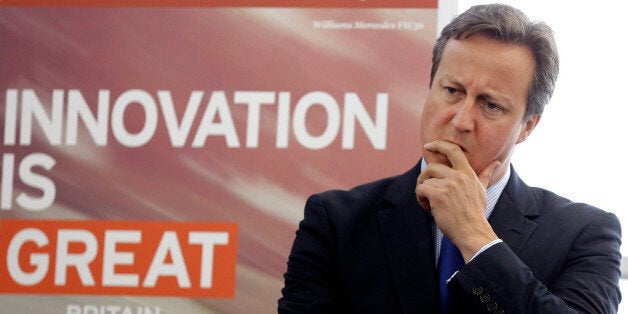 Promoting women in the widely-expected government reshuffle will look like a "last minute worry" about votes, Labour has claimed.
Speculation is mounting that David Cameron is planning to install more leading Tory women into the most senior positions in a shake-up before Parliament breaks for the summer.
But Shadow home secretary Yvette Cooper accused the Prime Minister of having a "real blind spot" over women and said it would be "too little, too late".
She told Murnaghan on Sky News: "I think if he was serious about having women in his Cabinet, he's had four years to do so.
"There's only three women in the Cabinet of between 20 and 30 people at the moment and I think this is going to look really like a last minute worry about votes because he knows that he's got a real blind spot when it comes to women."
Home Office minister James Brokenshire insisted the Prime Minister "absolutely" does not have a blind spot when it comes to women.
"As a male minister in the Government, I look at the talented people that we have - men and women - and I think we are a very well-balanced government, that we have some fantastic talent from whatever quarters and if the Prime Minister decides that he wants to look at bringing further people through that is absolutely a right thing for him to do at the appropriate moment," he told Murnaghan.
"I think it is looking at the talent that we have, but yes we need to do more to ensure that as a party we reflect men, women and also all communities across the UK.
"We know that we have more work to do but we have made some important steps forward.
"I know it is something the Prime Minister very much has in his mind and I'm sure will be looking at carefully."
Disgraced former culture secretary Maria Miller touted whip Harriett Baldwin and backbencher Margot James for Government roles in any reshuffle.
She told Sky News's Murnaghan programme: "I think (Mr Cameron) has got a hugely rich talent pool to draw from - people like Harriett Baldwin, who was a leader in her field in the City before she came to Parliament.
"Margot James - a very successful businesswoman.
"There is no shortage of talent and I'm sure the Prime Minister will make good use of that."
Mrs Miller would not be drawn on whether she would want to return to a Government role and praised Employment Minister Esther McVey, who many are touting for a promotion.
The Tory MP said: "Esther is working the department that I used to work in with Iain Duncan Smith and I think has proven herself to be a formidable advocate for employment and the employment programmes that are going forward.
"I would imagine she will continue to rise on up with her credentials and her clear talent."
Meanwhile, Liberal Democrat Justice Minister Simon Hughes said party leader Deputy Prime Minister Nick Clegg was "mindful" of getting more women into Government and the Cabinet.
Amid rumours that Business Minister Jo Swinson may take over as Scottish Secretary in the Autumn or replace Ed Davey as Energy Secretary in order to enter the Cabinet, Mr Hughes told the programme: "I haven't a clue (about a Lib Dem reshuffle) because in the end each of the two party leaders makes their own dispositions, the press is full of suggestions it's a Tory reshuffle this week.
"Obviously Nick Clegg as Deputy Prime Minister is entitled to reshuffle his team whenever he wants to within the agreement between the two parties.
"And he's absolutely mindful of making sure that we have more women in government - the fact that we have people like Jo Swinson back from maternity leave firing on all cylinders in the Department for Business, Innovation and Skills is very welcome in the party."