Four Palestinian children were killed in Gaza on Wednesday, after Israeli shelling struck a group playing football on a beach. The attack was witnessed by scores of foreign journalists. Reported by The Telegraph, some of the children that survived were rushed to nearby hotels to shelter from the attack. Journalists gave first aid to those injured, many tweeting about their experience.
According to Reuters, the shells were fired from an Israeli naval gunboat. However, Lahav Harkov from the Jerusalem Post is reporting that a senior source within the IDF claims the shells were not fired by the Israeli navy.
Senior source tells me Israeli Navy 100% sure it did not shoot at Gaza beach where 4 children tragically killed - but it could be Air Force.

— Lahav Harkov (@LahavHarkov) July 16, 2014
Ahmed Abu Hassera, 22, who witnessed the attack said: "The kids were playing football on the beach. They were all under the age of 15... When the first shell hit the land, they ran away but another shell hit them all. It looked as if the shells were chasing them."
NBC News correspondent Ayman Mohyeldin reported that the four children killed were from the same family, aged between 9 and 11-years-old. An Israeli spokesperson told Reuters they were checking the report of the attack. A spokesman for the Gaza Health Ministry called it a "cowardly crime".
Sami Abu Zuhri, a spokesman for Hamas, told reporters: "These crimes will not succeed to break our will. We will continue the confrontation and resistance and we promise (Israel) will pay the price for all these crimes."
On wednesday, more than 70 rockets were fired from Gaza into Israel, with the Iron Dome missile defence system shooting down 23, according to Israeli officials. IDF troops remain amassed at the Gaza border, with Netanyahu threatening a ground invasion should the rockets into Israel not stop.
On Tuesday, Hamas dismissed a peace proposal, brokered by Egypt, in which a 12-hour de-escalation was proposed. Israel agreed to the cease-fire plan, however Hamas, weary of the new regime in Cairo, rejected the plan, firing scores of rockets into Israel at the time the cease-fire was proposed to start.
Since the offensive began, 207 Palestinians have died from the Israeli air assault, mostly civilians. One Israeli has died from the daily rockets fired from Gaza into the Israeli heartland.
WARNING: EXTREMELY GRAPHIC PICTURES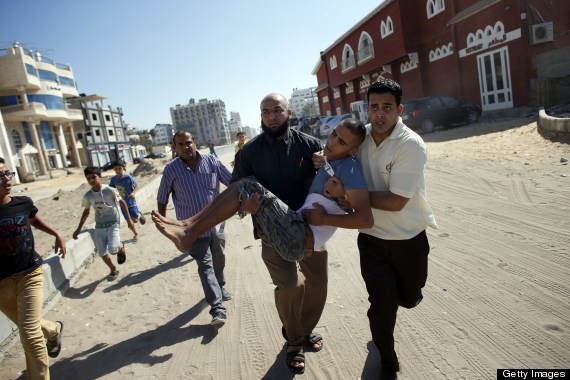 A Palestinian man carries the body of a boy injured by Israeli shell fire
A #Palestinian mother reacts to the news that her son was one of 4 boys killed in Israeli shelling of #gaza seaport pic.twitter.com/2LdGY5p9GU

— Ayman Mohyeldin (@AymanM) July 16, 2014
The 4 boys killed in #Israel's #Gaza seaport shelling were from the same family. All were 1st cousins from the Bakr family 9-11 years old

— Ayman Mohyeldin (@AymanM) July 16, 2014
A pretty grisly attack in front of my hotel at a hut near the harbor. We ran out to find two young men and a small boy in the rubble. #Gaza

— Nick Casey (@caseysjournal) July 16, 2014
How Israel killed a Palestinian children in #Gaza beach during today ? pic.twitter.com/JlE2gtGIDn

— Alaqsavoice Breaking (@Alaqsavoice_Brk) July 16, 2014
Children wounded by shrapnel treated by foreign journalists on terrace of al-Deira hotel #Gaza pic.twitter.com/G8jQBXmZHZ

— Jonathan Miller (@millerC4) July 16, 2014
journalists carry wounded children out of al-Deira hotel pic.twitter.com/hbwKCkCXIe

— Jonathan Miller (@millerC4) July 16, 2014
Today was a personal low point - giving first aid with colleagues to two children wounded by shrapnel on Gaza beach on terrace of our hotel

— peter beaumont (@petersbeaumont) July 16, 2014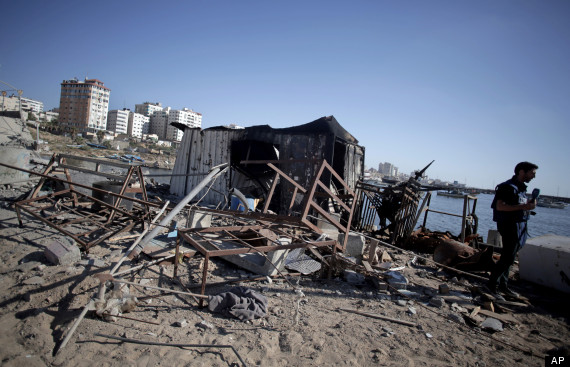 A reporter stands next to a destroyed police post following the strike
Peter Beaumont, the Jerusalem bureau chief for the Guardian, wrote an eyewitness account of the shelling:
The first of the artillery shells came in a little after 4pm on Wednesday as I was writing on the hotel's terrace. There is a deafening explosion as it hits a structure on the pier, a place we have seen hit before, where fishermen usually store their nets.

Behind the smoke, I see four figures running, silhouettes whose legs are pumping raggedly. They clear the smoke. From their size it is clear they are a man and three young boys.

Where the harbour wall ends and the beach starts, there are a few brightly coloured tents and chairs for beach users in more peaceful times. The four figures jump on to the beach and begin running towards us and the safety of the hotel.

Only afterwards do we discover there are four others who are dead, all children, lying on the wall. I am shown a picture of one of the dead boys, his skin scorched and bruised. Their names are released later: Ahed Bakr, aged 10; Zakaria, 10; and two other boys from the Bakr family, both named Mohammad, aged 11 and nine.
SEE ALSO: