A British-born father-of-two living in New Zealand was among the passengers on board Malaysia Airlines flight MH17 that was brought down over Ukraine.
Robert Ayley, 28, was returning home to his wife Sharlene and two young sons, aged two and four, in Wellington following a month-long working trip to Europe.
Mr Ayley, one of 10 British people killed in the disaster, is reportedly from Guildford in Surrey and had been travelling on a British passport.
He was the fifth victim identified. The last two to be named were John Allen and Andrew Hoare.
In a statement his family said they were "desperately sad" to confirm that Mr Ayley had been a passenger on Malaysia Airlines flight MH17.
The dog breeder had travelled to Europe with a friend to visit Rottweiler breeders with the hope of growing his programme in New Zealand.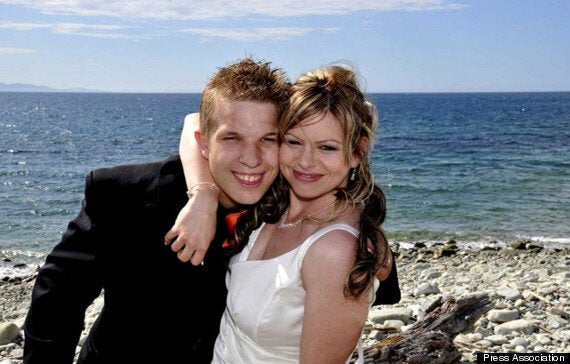 Robert Ayley with his wife Sharlene
The statement said: "Rob was always passionate about life, there were no half measures. He was passionate about his family too.
"He found in his boys two little people he could love, understand and trust. When they cried they were sad, when they laughed they were happy and when they hugged it was because they loved him.
"He struggled to interpret body language and innuendo but he could understand his boys.
"Sharlene and Rob are soulmates. She is his 'Princess'. She changed his life and he changed hers.
"She held his heart and he held hers. Rob will live forever in his family."
They added that Mr Ayley "went out on a high", highlighting his sense of humour.
In a final email before he boarded the flight, he talked about being "ready to come home".
He wrote: "So yes, here we are. Last day in Europe. My flight is at 12 tomorrow. Right now, I'm just looking forward to seeing the boys and Sharlene. It's been a long, long journey.
"We've seen the world's greatest Rottweilers, we have established contacts, and made life-long friends, but now I'm just ready to come home."
A British charity is looking after a disabled child who is thought to have lost family members in the MH17 disaster, it has emerged.
The Percy Hedley Foundation, based in Tyneside, is a regional education and care charity working with disabled children and adults.
A spokesman for the foundation said: "We are caring for a disabled child whose family we believe were affected by the tragedy in Ukraine and we ask that people respect the child's privacy."
The foundation would not divulge details such as the child's nationality or age to protect their identity.
Russia and Ukraine have traded blame for the destruction of the plane but evidence is mounting that it was shot down by pro-Russian separatists using a sophisticated missile launcher.
Russian President Vladimir Putin has been accused of aiding and abetting the seperatists in the east of Ukraine for months.
Prime Minister David Cameron has described the catastrophe as an ''absolutely appalling, shocking, horrific incident'' that ''cannot be allowed to stand''.
A No 10 spokeswoman said: ''While it is too early to be categoric about the cause of the disaster, the growing weight of evidence suggests that MH17 was shot down by a surface-to-air missile and that this was fired from near Torez, in territory controlled by the separatists."
The last two British victims to be named were John Allen and Andrew Hoare.
Around 30 officials, the majority from the Organisation for Security and Co-operation in Europe, arrived at the crash site yesterday, about 25 miles from the Russian border, and were allowed a cursory inspection while guarded by pro-Russia rebels.
The United Nations Security Council has also approved a statement calling for a ''full, thorough and independent international investigation''.