Ukrainian rebels may have tampered with the crash site of the Malaysian airliner MH17, it has been alleged, with black boxes removed from the crash site and sent to Moscow, and the leader of the separatists pictured at the scene.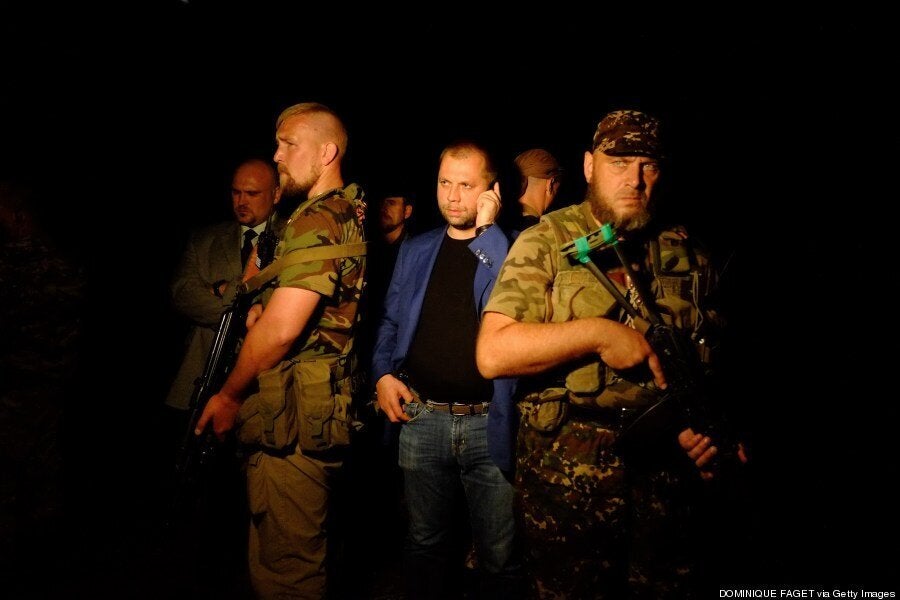 Self-proclaimed Prime Minister of the pro-Russian separatist 'Donetsk People's Republic' Alexander Borodai (C) stands as he arrives on the site of the crash
Ukraine's rebels control access to the crash site. Yesterday it was reported that separatist leader Igor Girkin had claimed credit for shooting down MH17, posting a boast on the VK social media site, which was later removed. It appears to have mistaken the plane for a Ukrainian army plane.
"The plane has just been taken down somewhere around Torez. It lays there behind the Progress mine. We did warn you – do not fly in 'our sky'."
"And here is the video proving another 'bird' falling down. The bird went down behind the slagheap, not in the residential district. So no peaceful people injured. There is also information about another plane shot," he added.
Although not independently verified, Ukraine's intelligence agency has released the transcript of an intercepted phone call it says is between two militants nicknamed "Major" and "Greek", as well as a call from Igor Bezler, allegedly a commander with the Donetsk People's Republic, to Vasili Geranin, who is said to work for the intelligence headquarters of the Russian army.
Igor Bezler: We have just shot down a plane. Group Minera. It fell down beyond Yenakievo (Donetsk Oblast).

Vasili Geranin: Pilots. Where are the pilots?

IB: Gone to search for and photograph the plane. It's smoking.
The second recorded conversation is between two anonymous militants, translated by the Kyiv Post.
"Major": These are Chernukhin folks who shot down the plane. From the Chernukhin check point. Those cossacks who are based in Chernukhino.

"Greek": Yes, Major.

M: The plane fell apart in the air. In the area of Petropavlovskaya mine. The first "200" (code word for dead person). We have found the first "200". A Civilian.

G: Well, what do you have there?

M: In short, it was 100 percent a passenger aircraft.

G: Are many people there?

M: Holy shit! The debris fell right into the yards (of homes).

G: What kind of aircraft?

M: I haven't ascertained this. I haven't been to the main sight. I am only surveying the scene where the first bodies fell. There are the remains of internal brackets, seats and bodies.

G: Is there anything left of the weapon?

M: Absolutely nothing. Civilian items, medicinal stuff, towels, toilet paper.

G: Are there documents?

M: Yes, of one Indonesian student. From a university in Thompson.
The final conversation is between an unidentified militant and an alleged Cossack commander, Nikolay Kozitsin, which the Kyiv Post has translated.
Militant: Regarding the plane shot down in the area of Snizhne-Torez. It's a civilian one. Fell down near Grabove. There are lots of corpses of women and children. The Cossacks are out there looking at all this. They say on TV it's AN-26 transport plane, but they say it's written Malaysia Airlines on the plane. What was it doing on Ukraine's territory?

Nikolay Kozitsin: That means they were carrying spies. They shouldn't be fucking flying. There is a war going on.
Borodai denied having a single Buk missile, though he added "unfotunately" because it was something the rebels desired. Speaking to Kommersant FM and blaming the Ukrainian army, the rebel leader added: "Preliminary investigation showed that the airliner had been shot down—it is obvious. The plane crashed practically on the front line, you need to understand that. We only have artillery that can hit a target at 2,500 meters."
The plane was shot down over Ukraine by a long-range surface-to-air missile on Thursday, a type of weapon owned both by the Russian and Ukrainian armies. The Ukrainian government has said that the weapon was captured by pro-Russia rebels who control the country's east.
The "black box" flight recorder from the airplane has traveled to Moscow "for investigation," according to Russian radio station Kommersant FM.
"Due to the urgent need that arose because of the threat to Donetsk as a city surrounded by fighting, and to avoid various incidents and save civilian lives, as a measure to strengthen law and order, the militia command hereby imposes martial law and a curfew."
The missile which is reported to have been used, a Buk-M2E "is designed to destroy tactical and strategic aircraft, helicopters, cruise missiles, and other aerodynamic aircraft at any point in their range of operation, along with tactical ballistic and aircraft missiles, and smart air bombs in conditions of heavy enemy counter fire and radio jamming; as well as to attack water and ground surface contrast targets."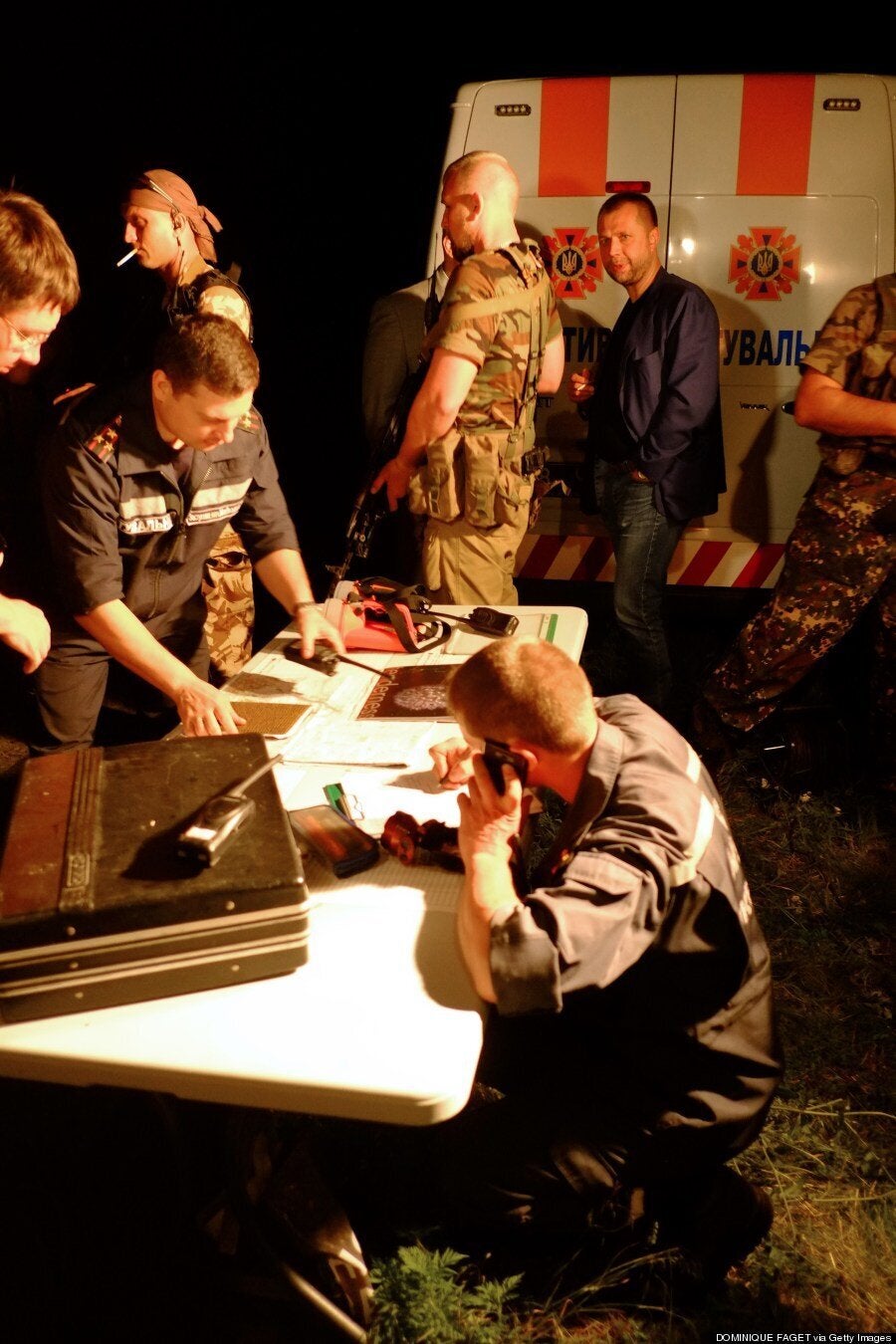 First-aid workers and self-proclaimed Prime Minister of the pro-Russian separatist 'Donetsk People's Republic' Alexander Borodai gather
Ukrainian Prime Minister Arseniy Yatsenyuk called on world powers at a press conference on Friday morning to bring to justice "those bastards who committed this international crime".
Russian media is also reporting the plane crash could be a false flag attack by the Ukrainian army, and even that it was an intended assassination of President Vladimir Putin, who Ukrainians allegedly believed was travelling through the area on his presidential plane, according to an Interfax report.
"A few years ago, Ukrainians shot down a Russian passenger plane of Sibir airline—they denied it was their fault for a long time. It is all their fault again," Russian Duma deputy Andrei Artemyev said on Thursday night.
Ukraine said a military transport plane was shot down on Monday by a missile fired from Russian territory. Security Service chief Valentyn Nalyvaichenko said he had "unconditional evidence" that Russia was involved in downing that aircraft.
Putin said on Friday said Ukraine bore responsibility, saying it would not have happened if Kiev had not resumed a military campaign against separatists.
"This tragedy would not have happened, if there had been peace on that land, or in any case if military operations in southeastern Ukraine had not been renewed," he said.
"And without doubt the government of the territory on which it happened bears responsibility for this frightening tragedy," he said.
"We will do everything that we can so that an objective pictured of what happened can be achieved," Putin added. "This is a completely unacceptable thing."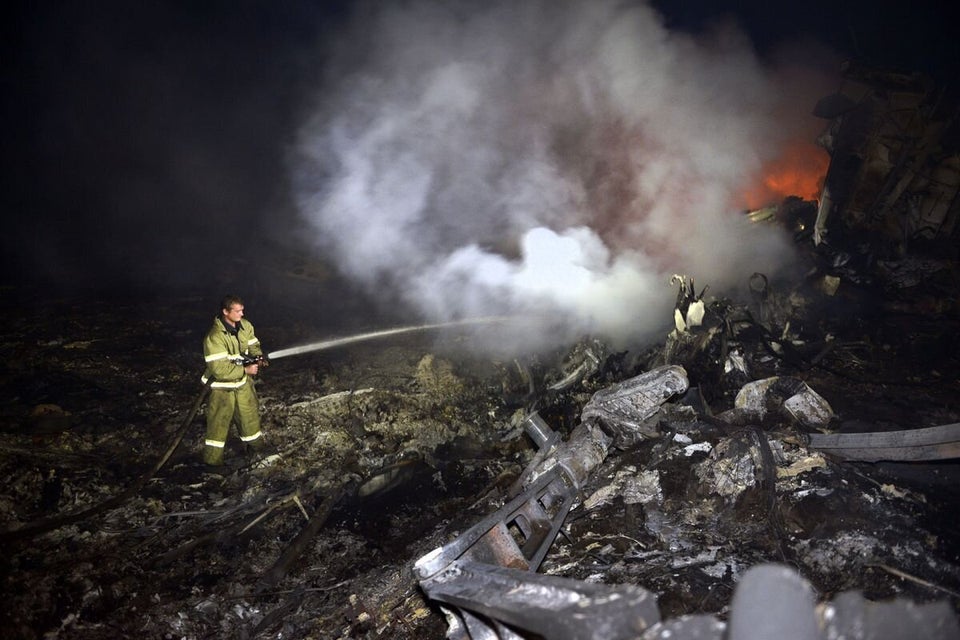 MH17 Malaysia Airline Plane Crashes