The downing of the Malaysian jet MH17 could have a transformative impact on the crisis in the Ukraine, massively increasing pressure on Russian President Vladimir Putin over his support for anti-government rebels, experts have said.
Already suffering under the impact of sanctions - tightened only last night by the US and EU - because of its annexation of Crimea, Moscow could be subjected to much more punitive measures if it is shown to be the source of the missiles used to target the civilian airliner.
According to Reuters, separatists have agreed to a tree-day ceasefire, however conflicting reports say that access to the crash site is currently being hampered by "armed terrorists".
Although responsibility for the attack has not yet been determined, initial suspicions were pointing at the pro-Russian rebel forces which have established strongholds in the east of Ukraine since the ousting of president Viktor Yanukovych by protests earlier this year.
Separatist leader Igor Strelkov is reported to have boasted that his group shot down a Ukrainian military transport plane at around the time that the airliner, en route from Amsterdam to Kuala Lumpur, fell from the skies near the Ukrainian-Russian border. However other militants in Donetsk later insisted that armed forces loyal to the Kiev government were to blame.
Experts said that it was implausible to suppose that the rebel groups could have perpetrated the attack using a sophisticated ground-to-air missile system without Russian support. "Of course at this stage it is still theoretically feasible that it could have been the Ukrainian armed forces, the rebels or the Russians," said Jonathan Eyal, international director of the Royal International Services Institute in London.
"But up to now there hasn't been any instance of the Ukrainians having used their air defence system against aircraft for the simple reason that the rebels don't have aircraft. The idea that this was mistakenly shot down by the Ukrainians is not plausible. It can't be a rebel force on its own. They couldn't have operated this system without Russian direct involvement.
"Even if the rebels were to have a missile system - which is possible, because it was transferred by the Russians - it is difficult to see how anyone could have operated it without a radar system which not merely guides the missile but targets the missile in the first place."
Until now, Mr Putin has ascribed unrest in eastern Ukraine to home-grown militias seeking to defend the Russian-speaking population against an illegitimate neo-fascist regime in Kiev, and has been careful to avoid any direct involvement by Russian forces. But Dr Eyal said: "This could be the turning point in the Ukrainian crisis. There are already indications that the Russians are very worried - there was a pre-planned telephone call between Putin and Barack Obama today, and it appears it was devoted entirely to this problem.
"This will act as a reminder to Putin that this escalation of military pressure that he thought he had eminent deniability for is fraught with massive risk. It makes it extremely difficult for the Russians to continue this policy of escalation. It might force them to be much more prudent."
Nato has recently been warning about the irresponsible way in which powerful weapons like tanks, armoured personnel carriers and Manpad surface-to-air missiles have been supplied to irregular militias in Ukraine, and rebels have succeeded in downing a number of government aircraft, said Dr Eyal. "This may force Putin to be more circumspect about what he offers," he added. "But if so, the rebels may well be overwhelmed by Ukrainian forces who are already pinning them down at the moment."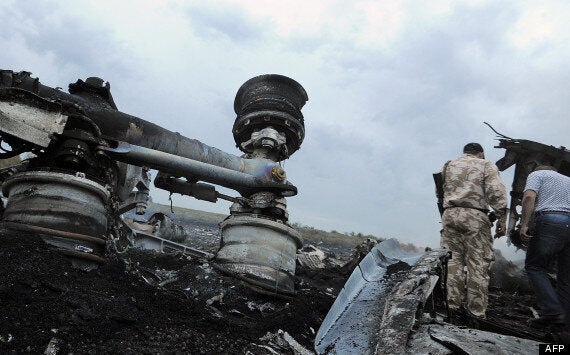 Two man surveys the MH17 crash site in Ukraine
The former UK ambassador to Moscow, Sir Andrew Wood, told BBC Radio 4's PM: "No-one knows who fired this missile, but assuming that the only credible explanation is that it is the Russian separatist forces, the risk of still further sanctions against Russia must be high and well-deserved.
"It will be possible to apply much higher sectoral sanctions and it it would be possible to apply them to more individuals. The Russian economy - if the West was so determined - could be given very considerable harm, as opposed to the relatively severe harm they have had already."
In the wake of Russia's effective annexation of Crimea in March, the international community scaled back ties with Moscow - most notably by boycotting the planned summit of the G8 in Sochi - and introduced asset bans and travel freezes against key members of Mr Putin's inner circle and individuals linked to the military operations.
In a co-ordinated move yesterday, the US and the European Union ratcheted the sanctions up further, with Mr Obama announcing new restrictions on companies, including Rosneft, accessing American capital markets. Steps were also being taken to prevent senior officials and rebel groups in eastern Ukraine getting hold of funds.
Meanwhile, EU leaders meeting in Brussels imposed asset freezes on a further 11 individuals and signalled that measures will be expanded significantly at the end of July to cover "entities and persons" helping to undermine Ukraine's "sovereignty, territorial integrity and independence".
Rusi's senior research fellow Shashank Joshi said that Mr Putin may now face much more stringent sanctions than expected, with "fence-sitting" leaders like Germany's Chancellor Angela Merkel driven to throw their weight behind a punitive response. "This absolutely transforms the way the Ukraine crisis will progress," said Mr Joshi. "It would be an absolute game-changer if it was found to be pro-Russian forces to blame.
"European countries have been quite cautious so far, particularly Germany, because of its economic, energy and diplomatic ties with Russia, and the US has tried to encourage Europe to be tougher. If Moscow is found to be ultimately responsible for the provision of weapons used to bring down a commercial airliner, I think it would have a catalysing effect on the European debate. It would result in more co-ordinated European action with countries joining together to act more forcefully against Moscow.
"It will compel fence-sitting leaders like Angela Merkel to get more involved. Germany could cause real harm to the Russian economy by denying it access."
Mr Joshi said he expected Europe to take time in determining its response and ensuring that there is clear attribution of blame for the disaster, rather than rushing precipitously into action. But he said that an array of sanctions were at its disposal, with measures to bolster support for the regime in Kiev. "All the signs are pointing in a very ominous direction for Moscow," he said."This would be an absolute disaster for Russian diplomacy, because for so long their strategy has been built around plausible deniability, ratcheting up tensions without the overt involvement of Russian forces."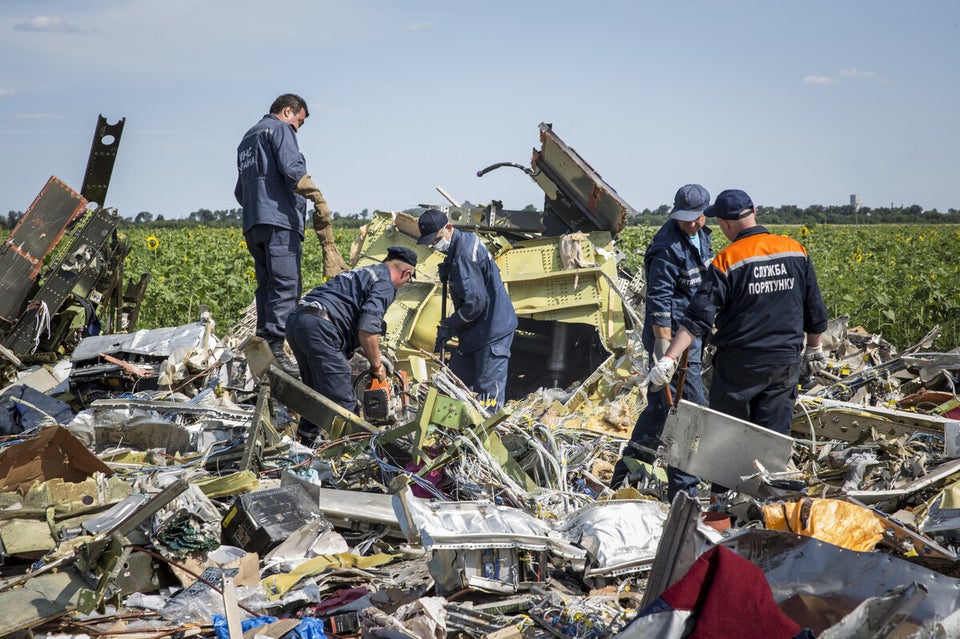 MH17 Malaysia Airline Plane