Registrars could be given sweeping new powers to refuse to perform marriages they suspect to be "shams" raising fresh fears that genuine weddings could be disrupted.
It comes after the Huffington Post reported on Thursday that there is a wide a disconnect in the number of Home Office raids, and the number of couples arrested - meaning more and more genuine marriages are being disrupted. Experts have warned that is likely to increase with more extensive powers granted to registrars, which one barrister called "deeply concerning". The number of suspected sham marriages reported directly by registrars has increased more than seven-fold since 2010.
Suspect couples being referred annually to the Home Office has also more than doubled in three years to 2,135, the Commons Home Affairs Committee said, which many experts believe is down to drive from the government to target potential scammers.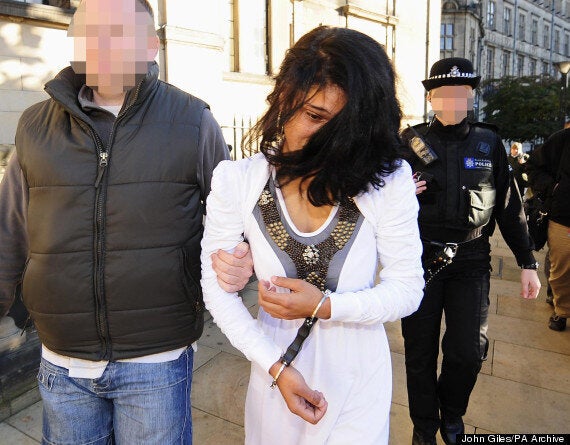 A bride is led away in handcuffs after being arrested at Sheffield Town hall under suspicion of taking part in a sham marriage
But in 2013, 1,173 couples had their 'suspect' marriages investigated by the Home Office, and 664 people were arrested. Experts say it is likely that two arrests would be made in many cases, though not all. It means, at the very least, that in more than two-fifths of cases, the marriage is not suspect at all.
"Registrars are too quick to report relationships that are unconventional or that do not fit their model of expectations," immigration barrister Colin Yeo QC, of Garden Court Chambers, told HuffPost UK. "There is no recourse unless someone is detained, in which case an unlawful detention claim could potentially be brought, which does sometimes happen.
"There is simply no evidence to suggest sham marriages are a genuine problem: it is supposition and guesswork.
"The idea that registrars should be permitted to interfere with a fundamental human right, the right marry the person of your choosing, without any real investigatory powers, based on hunch and suspicion of foreign nationals, is deeply concerning.
"The new Immigration Act 2014 will impose a 70 day notice period where the Home Office signals an interest following a registrar suspicion report, which is already a major interference with the weddings of foreign nationals and those that fall in love with them."
But today's report said that registrars were often left feeling ignored and under-informed by immigration officials about what action was being taken, and many felt obliged to officiate at ceremonies they believed to be fraudulent and should be give more discretion to act unilaterally, it concluded.
Registrars complained that the failure of the Home Office to intervene in some suspicious cases left them feeling like they were obliged to preside over a marriage they believed was a sham, with one telling the MPs it was "like being mocked in your own job".
He said there was an "almost complete absence of prosecution and enforcement activity" in individual cases and that greater resources needed to be channelled into tackling the issue.
"We recommend that the law be changed so that if the Home Office enforcement team do not act on a section 24 report from the Registrar and the Registrar is confident the wedding is a sham, then the Registrar should have the power to cancel the wedding," the report recommended.
"The Home Office should provide training on how to identify potential shams and, most importantly, it should provide full, accurate and timely information to the Registrars to tell them what action is being taken as a result of their reports."
Committee chair Keith Vaz said it was "absurd" the burden of proof presently lay with the Home Office.
"There is an industry of deceit in the UK which uses sham marriages to circumvent immigration control," he said.
"The estimated 10,000 sham marriages appears to be increasing at an alarming rate. One sham marriage can provide UK residence rights to an entire extended family who would otherwise have no right to be here.
"The role of registrars is critical. The Home Office should not only provide them with better feedback and training on reporting but also empower them to stop suspicious marriages.
"It is absurd that we willingly accept as valid, marriages where the two parties do not attend the ceremony.
"This allows an easy ticket into the UK and this proxy marriage loophole must be closed immediately. Without taking these steps the Government will never get a firm grip on a situation which is spiralling out of control."
Shadow immigration minister David Hanson said: "This report exposes another crisis at the Home Office of the Home Secretary's making: when will the Home Secretary take responsibility, get a grip and apologise for her shambolic mismanagement which has allowed a sham marriage industry to develop on her watch?"
"No one in their right mind would condone the practice of sham marriage, but the government are not tackling the issue in the right way," Habib Rahman, the chief executive of the Joint Council for the Welfare of Immigrants told HuffPost UK.
"Enforcement visits before or during wedding ceremonies are distressing and intrusive and damage community relations.
"We know of numerous arrests which do not result in convictions or even charges. The basis of Home Office distrust of all migrants goes some way to explain why so many investigations do not end up with arrest.
"As the government wants to act tough on all forms of immigration, we fear this problem will get worse in the coming year."
Popular in the Community