Their pictures adorned users' avatars and cover photos from Stretford to Shanghai but Ryan Giggs' caretaker stint as Manchester United manager, flanked by three former teammates Nicky Butt, Phil Neville and Paul Scholes, was borne out of the same blinkered romanticism that led to the ill-fated appointment of David Moyes.
Sir Alex Ferguson, inevitably, endorsed Giggs as his replacement. This time, though, United's executive vice-chairman Ed Woodward defied Sir Alex Ferguson's advice and sought a credible manager in Louis van Gaal to re-energise a club that had allowed their standards to slip long before Ferguson retired. Giggs, less qualified to manage United than the incongruous Moyes, admitted in June he wasn't ready for management.
The Welshman is now assistant to Van Gaal and the duo have presided over two encouraging wins on United's pre-season tour of the United States. Across the pond, Rio Ferdinand offered a glimpse of what might have been had Woodward obeyed Ferguson again.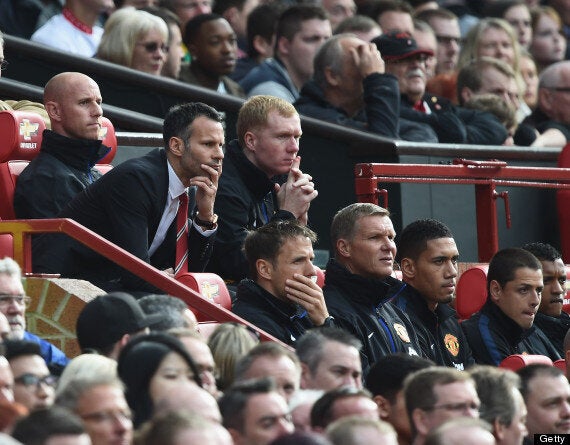 Giggs appointed three former teammates during his caretaker stint last season
At his unveiling as Queens Park Rangers' latest signing, Ferdinand admitted he would have stayed at Old Trafford had Giggs replaced Moyes.
"We had that conversation when he took over the job and he was looking at it like he was going to be in charge this season," Ferdinand said. "He did make it clear to me that I would have been part of his plans but as you know in football things change quickly and you've got to move on.
"A new manager came in, things have gone a different way. You have to brush yourself down and get on with it. That's what I've done."
United's most decorated and longest-serving player, few men in the club's history match Giggs' reverence amongst supporters. The sight of four local lads managing United was a heartening and timely sight, five months after a third Class of '92 documentary, but it also hinted at an old boys' club that could have descended into farce with headmaster Ferguson watching on. Moyes, effectively regarded as a supply teacher, might have felt like the dotty old dear in Catch Me if You Can who arrived to find the younger, under-qualified Frank William Abagnale bringing order to the unruly class.
Ferdinand experienced perhaps his worst season at United under Moyes as he turned 35 last year. He deserved a one-year extension following an excellent 2012-13 campaign but Moyes' arrival seriously affected the older players' worth to the side. Ferdinand was the first man to undermine Moyes publicly, who then asked the six-time English champion to model his game on the undecorated artisan Phil Jagielka. Mitigating factors aside, United made the right decision by taking the decision out of Giggs' hands and letting Ferdinand go.
Giggs has since confessed his four-match, and inconsequential, managerial stint proved he needed to be patient. "There was the odd thing where I thought 'I'm not quite ready for this'," Giggs said in June. "I thought I could do with a little bit more experience."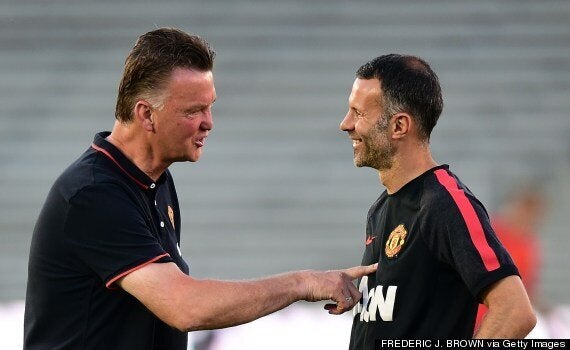 Giggs' managerial rawness was no match for Van Gaal's experience
Ferguson's judgement became seriously impaired during his last decade at United, despite another hegemonic spell, and he is still motivated by, as Roy Keane put it, "power and control". Moyes, his friend, felt like an in-house appointment and he has known Giggs for nearly 30 years.
Van Gaal privately harbours doubts about Ferguson's role at United and with an ego as large as Old Trafford's north stand, he will ensure he isn't as tormented by Ferguson's presence as Moyes was. Van Gaal is one of the few men in football who gives the impression he could elicit a grovelling apology from José Mourinho, after the Chelsea coach's remarks about Luke Shaw's wages last week.
Giggs, once dubbed "a God in the dressing room" by Ferguson, is a mere mortal on the touchline. His old partner-in-crime, Butt, has retained a coaching role at United but Scholes and Neville are still on the golf course. Neville returned to United as part of Moyes' Evertonian staff along with Steve Round and Jimmy Lumsden last summer, yet although they both left United when Moyes did, Neville remained in the Old Trafford dugout seemingly by virtue of friendship, rather than experience.
Patrice Evra, another member of the Champions League-winning old guard, has also departed in the close season. Van Gaal's management is built on harmony, not cliques, and United could not tolerate another cabal.