Scots living in US are much more sceptical of independence than those living in the country, with many Scots-Americans fearing the "special relationship" with America would suffer if their country left the UK, according to a new survey.
The survey showed 74% of Scottish-born people living in the United States wanted Scotland to remain in the UK and 38% fear independence would harm its relationship with America.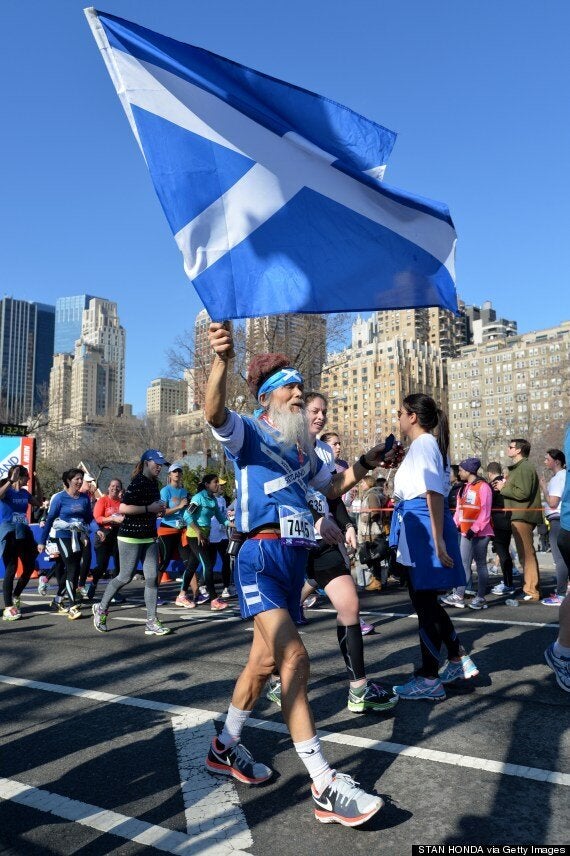 A runner on New York's Scotland Run
The American survey was conducted by non-profit corporation Friends of Scotland, which polled more than 200 Scots who live in the US.
If the Scotland votes yes, 66% of respondents would prefer to retain their British passports than change to a new Scottish issued one, the survey said.
A total of 84% felt those pushing for independence had not set out a vision of what the new nation's foreign relations would be handled, saying they did not believe "sufficient thought has been given to Scotland's international representation through embassies and consulates to guarantee, protect and promote Scotland's interests abroad".
Friends For Scotland was founded in 2001 by actor Sir Sean Connery - who is a vocal advocate of independence - to promote Scottish interests abroad, particularly in the US.
American tourists' visits to Scotland are estimated to be worth £280 million to the Scottish economy a year.
Scots who live in the US but favour independence include actor Alan Cumming, who bought a property in Edinburgh ahead of the poll so he could vote, only to be told he couldn't because it was not his main residence.
The poll is not the first intervention in the Scotland debate by those living in the US.
The intervention of Barack Obama was a decisive moment in the debate over Scottish independence.
"The UK has been an extraordinary partner to us. From the outside at least it looks like things have worked pretty well and we obviously have a deep interest in making sure one of the closest allies that we will ever have remains a strong, robust, united and effective partner," he said at a press conference alongside David Cameron in June.
Hillary Clinton, who may succeed Obama as president, also opposes Scottish independence.
Speaking on Newsnight, she said: "I would hate to have you lose Scotland. I hope that it doesn't happen but I don't have a vote in Scotland. But I would hope it doesn't happen."
She added: "I would think it would be a loss for both sides but, again, I don't have a vote."
Clinton said the special relationship between Britain and the US was "worth everything to me and to our country".
She added: "I do think we see the world very similarly."
The Yes Campaign was undeterred by the Friends of Scotland survey findings.
"Importantly, the respondents to this survey highlight that 62% believe that Scotland's strong relationship with the United States will endure after a Yes vote and that Scotland will come together after the referendum," a spokesman for Yes Scotland told The Huffington Post UK.
"Large numbers of the respondents also want more powers for the Scottish Parliament, but as the referendum debate has developed, more and more people in Scotland have come to realise that the only way to achieve a meaningful package of powers - that Holyrood could use to grow the economy and build a fairer society - is to vote Yes in September."
He added: "People in Scotland are comfortable with many identities, be they Italian, Polish, American, British, English, Irish, Indian and Pakistani. Everyone is entitled to their view, but the referendum is about who is best to take decisions on Scotland's future and we believe that is the people who live and work here.
"It is certainly not a Tory government at Westminster that continues to impose economically damaging policies in Scotland."