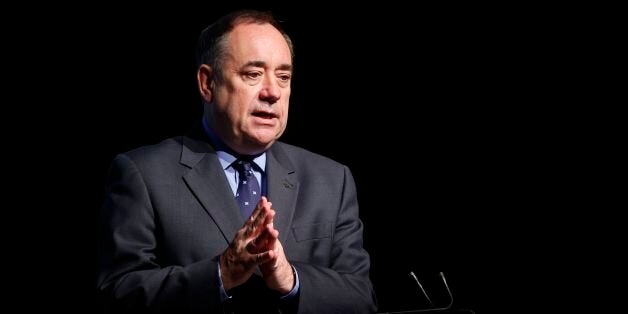 Alex Salmond will today back calls for the United Kingdom government to impose an arms embargo on Israel following its military actions in Gaza, ahead of his live TV debate on Scottish independence with Alistair Darling.
The demand comes after former Foreign Office minister Baroness Warsi dramatically quit the government over David Cameron's "morally indefensible" position on the Middle East conflict and called for Britain to stop selling weapons to Israel.
The Huffington Post UK has learned that the Scottish cabinet approved the position at a meeting on Tuesday morning. The Scottish government's external affairs minister Humza Yousaf will announce the move to the Scottish Parliament this afternoon.
The foreign and defence policy of Scotland is set by the Westminster government.
In a statement Yousaf said he condemned Hamas rocket attacks but said Israeli government's response has been "heavily disproportionate as is evident by the mounting civillian death toll".
"The UN has said that there is a strong possibility that violations of international law have occurred and UN Secretary General Ban Ki Moon described the shelling of a UN school in Rafah recently as a 'criminal act'," he said.
"With mounting evidence of possible violations of international law the UK must ensure that it is not complicit in the killing of innocent civillians through its supply of arms. There must be an immediate embargo an arms sales to Israel and an investigation into whether or not UK arms supplies might have been used in violations of international law.
"The Scottish government continues to offer its support wherever we can, be that through specialist medical care or providing asylum to Palestinian refugees - we stand ready to play our part as a good global citizen." Scottish external affairs spokesman Humza Yousaf
Edinburgh's position is at odds with London. On Monday Downing Street announced only a review of UK arms exports. Salmond is likely to present his demand for an arms embargo as evidence that an independent Scotland would be free to pursue a radically different foreign policy than it can as part of the UK.
Speaking exclusively to The Huffington Post UK in her first interview since resigning on Tuesday morning, the Warsi accused the coalition of failing to act as an "honest broker" in the Middle East and called for an immediate arms embargo against Israel.
"It appalls me that the British government continues to allow the sale of weapons to a country, Israel, that has killed almost 2,000 people, including hundreds of kids, in the past four weeks alone. The arms exports to Israel must stop," she said.
George Osborne said Warsi's decision to quit was unnecessary. "This a disappointing and frankly unnecessary decision," he said. "The British Government is working with others in the world to bring peace to Gaza and we do now have a tentative ceasefire which we all hope will hold."
On Saturday The Independent revealed that the British government has granted arms export licences worth £42m to 130 British defence firms since 2010 to sell military equipment to Israel.
Related