'Big Brother' viewers have called for Helen Wood to be removed from the house, after she was reprimanded by producers yet again over her unacceptable behaviour.
Earlier in the series, following several outbursts Helen was called to the Diary Room and told by Big Brother that she would need to modify the way she spoke to her housemates, and was warned that further action would be taken if she didn't drop her "abusive" and "threatening" demeanour.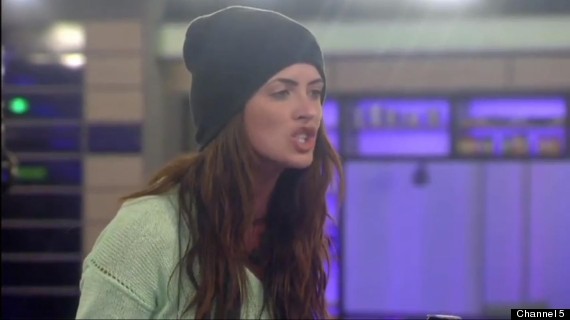 Helen Wood rants at her housemates
Since then, Helen had turned over a new leaf (well, kind of…), but after overhearing Ashleigh and Chris bitching about her during Wednesday night's highlights show, the mouthy hairdresser flew off the handle in yet another of her true-to-form rants.
She angrily told Ash: "I can't believe I've just heard people speak about me like that, I actually just want to go in and smash her f*cking head in… I can't believe the two faced little c**ts."
Later in the episode, though, she was shown being surprisingly nice to the pair, but confided in fellow housemate Winston that it was all a front, explaining: "I'm going to get my own back, but I'm not going to tell them…I feel like p***ing all over the pillows, I feel like tearing the s**t."
SEE MORE:
Helen has since been told by producers that her comments were out of order, and - as shown in 'Big Brother's Bit On The Side' - she was warned by Big Brother that her comments could "cause offence" to both viewers and housemates, to which she broke down in tears and said: "I just feel really guilty.. saying f**king stupid comments. It just sounds so awful when it's read back to me."
However, some viewers clearly think that 'Big Brother' bosses have been too lenient with Helen, and have called for her to be removed from the house.
With just over a week to go until the live final,many took to Twitter to voice their opinions, including 'CBB' winner Denise Welch:
#bbuk 3 strikes and you should be out!!!! I love you #bbuk but you're letting the public down on this one

— Denise Welch (@RealDeniseWelch) August 6, 2014
How many more chances is evil Helen gonna get she's nothing more than a foul mouthed nasty bitch get her out #bbuk

— david brook (@davmitz) August 7, 2014
#bbuk big brother said if Helen gets one more warning she's gone thanks big brother for sticking to your word #GETHELENOUT

— AmyLee-AnneBatham (@AmyAdeleBatham) August 6, 2014
@BBUKLive Helens had too many warnings!! #gethelenout! Ask her to giv up her pass to final for xtra cash for the winner? #nowayinhell

— anju (@anjulal) August 7, 2014
@bbuk how is Helen still in the house? How many warnings is she going to get before you kick her out!

— Mimi (@Official_Mimi_) August 7, 2014
Helen has had TOO MANY WARNINGS. People have been ejected for a lot less.

August 6, 2014
Meanwhile, it sounds like Helen could be about to capitalise on the 15 minutes of fame 'BB' has brought her, by launching her own 'TOWIE'-style reality series based in Manchester.
LIKE US ON FACEBOOK | FOLLOW US ON TWITTER