A new photography exhibition that showcases the world's best beards has been announced and it features a somewhat unlikely subject - a bearded woman.
Harnaam Kaur hit the headlines earlier this year when she revealed she had been growing facial hair since the age of 16.
The teaching assistant suffers from polycystic ovary syndrome – which causes excess hair growth – and was just 11 years old when her beard began to appear.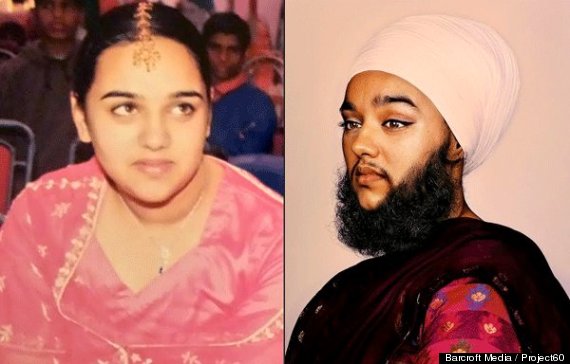 Throughout her teenage years Harnaam, from Slough, Berkshire, was taunted by cruel school bullies and tried everything from waxing to shaving and bleaching in order to hide her whiskers.
But she ditched her razor for good after being baptized as a Sikh – a religion which forbids the cutting of body hair. And today the 23-year-old admits she's never felt sexier.
Now she has been selected for a new portrait series, called #Project60, which is a celebration of 60 of the best beards from all over the world.
SEE ALSO:

Sikh Woman Harnaam Kaur Embraces Facial Hair Despite Bullying That Left Her Suicidal

Men With Beards Shaped Like Animals, Have You Ever Seen Anything So Hipster?

If You Like Beards... You'll Love Beards With Flowers In Them
The project marks the Northern Hemisphere launch of non-profit organisation Beard Season – which is raising awareness of skin cancer by encouraging people to grow their facial hair for winter.
Harnaam said: "It's incredible to be the only bearded woman among all these men. It makes me feel really strong.
"When I first started growing my beard it was for religious reasons but as the years have gone by I've kept it for more personal reasons.
"It makes me feel like a brave, confident woman who isn't afraid to break society's norms.
"And raising awareness for such a good cause is like a cherry on the top.
"When I first started growing my beard I had no idea how it could impact upon others but it is amazing what can happen when you're true to yourself."
Story continues below...
The project began in April this year when Beard Season began advertising on social media sites for the funkiest facial hair in the world.
The final 60 is currently being handpicked from thousands of applicants and many are being flown in from all over the world to Fenny Compton, Warwickshire, to be photographed by Brock Elbank.
He said: "We've had a lot of interest from some truly amazing people and Harnaam is one of them. To have her on board is such an exciting prospect for us.
"I like the fact that she has embraced having a beard and she's very striking with it.
"She's a really great girl and she told us her story and we loved her positivity.
"The whole project is about fighting melanoma and Harnaam is our secret weapon.
"For me it's about diversity of character, not just beards. It's about why they have it and the pride they carry by growing it."
LIKE HUFFPOST UK LIFESTYLE ON FACEBOOK | FOLLOW US ON TWITTER | WE'RE ALSO ON INSTAGRAM
Beard Season founder Scott Maggs, aka Jimmy Niggles, from Sydney, Australia, said he hoped the exhibition would educate people about skin cancer.
He said: "Four years ago I lost one of my best mates, Wes Bonny, to melanoma at the age of 26.
"At his wake a group of us decided to start something which would encourage more people to have regular skin checks.
"Not many blokes our age had beards back then and because his melanoma was on his neck we decided to cover up from the sun and let our beards grow, encouraging everyone who asked about them to have a skin check and share Wes' story.
"Thousands of people have visited their GP or skin clinic because of what we've started, and every week I'll receive messages from people who would not be here today were it not for our friendly advice."
Scott added: "Harnaam has such a magnificent message about the power of self confidence and positive body image.
"She has inspired millions around the world and it is a privilege to have her involved with #Project60."
Harnaam's portrait, as well as the 59 others, will be displayed in London later in the year.
For more information on Beard Season and their fight against melanoma, go to www.beardseason.com